August 15, 2018 - Today we were in San Pedro, CA to visit the ship S.S. Lane Victory. This Victory class cargo ship was built right here in Los Angeles in 1945. The ship served in World War II, the Korean War, and the Vietnam War, as well as in times of peace as part of the merchant fleet. The S.S. Lane Victory was named after Lane College, which was established as a high school for black youths in 1882 at Jackson, Tennessee by Bishop Isaac Lane. During WWII, a total of 531 Victory ships were built. A nationally recognized historic landmark, the S.S. Lane Victory now serves as a living museum and memorial to the service and sacrifices of all Merchant Marine sailors and Navy Armed Guardsmen. I should note that this is a working vessel that still sails the seas. Volunteers maintain it and keep it in operational condition.
There are two museums on board.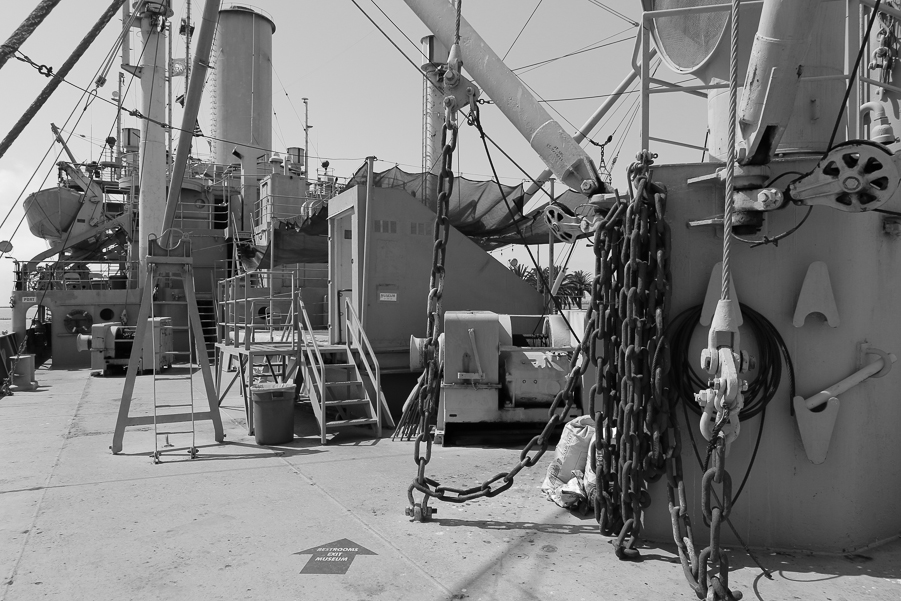 This is the captain's cabin.
The radio call letters for the S.S. Lane Victory are KECW.
This was a great adventure that was very interesting.
We've been to San Pedro before, but none of the restaurants we've tried made a big impression on us, so today we tried something new, the Whale and Ale. It's done in a traditional English pub style and the atmosphere is wonderful.
Judy had their traditional English fish and chips, with a twist. The dipping sauce for the fries was a creamy curry sauce.
I've never had "Bangers and Mash" before, so I went for it today. It's two large English pork sausages, grilled & served with mashed russet potatoes, gravy & steamed fresh vegetables
Everything was very tasty!