June 25, 2020 - Thursday - We were back in Riverside today for another walking tour, this time on Main Street.
Seth Thomas Clock (1908) — Though the clock itself dates back to 1908, it didn't appear in Riverside until the 1920s when it was planted outside a jeweler's store on Main Street. Since that time, the clock has been moved at least twice.
Loring Building (1890) — 3673 Main Street - Designed by A.C. Willard and built by wealthy winter resident Charles Loring, the building is likely the oldest structure remaining on Main Street. It once served as Riverside's first city hall, library, courts and even had a small jail. Originally designed in the Richardsonian Romanesque style, it was remodeled in 1918 by Riverside architect G. Stanley Wilson to better reflect the Mission Revival style of nearby buildings (particularly the Mission Inn). Inside, the building still contains an ornate "birdcage" elevator.
Eliza Tibbets statue (2011) — 3615 Main Street - Created by artist (and former Corona resident) Guy A. Wilson, the 11-foot statue entitled "Sower's Dream," commemorates Eliza Tibbets and her role in originating California's highly successful navel orange industry, which began in Riverside during the 1870s. The 1,100 pound bronze statue depicts Eliza with outstretched arms and billowing dress and honors not only Eliza the navel orange matriarch, but also Eliza the spiritualist, abolitionist and activist.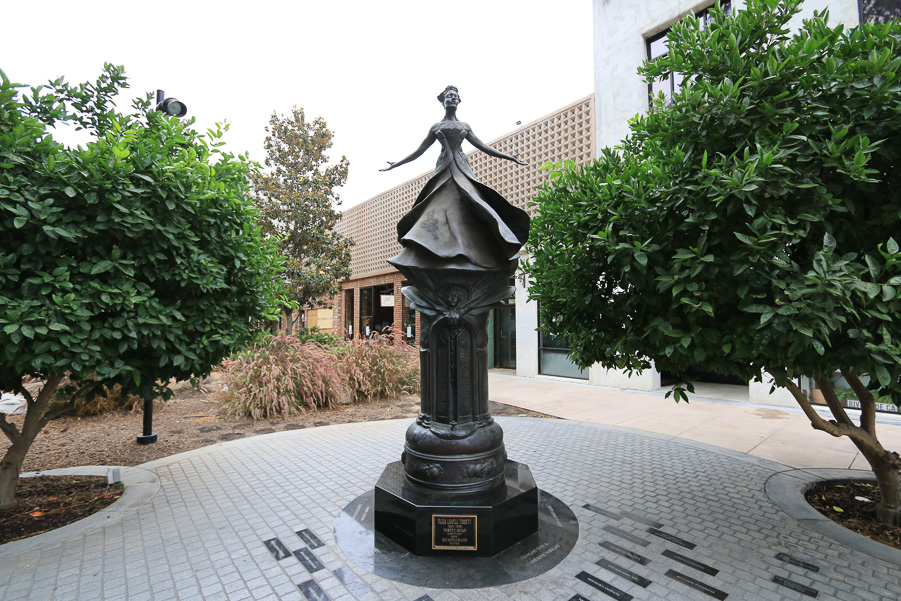 Abbott Block (1909-1939) — 3597-63 Main Street - Comprised of four buildings, the existing structures were erected beginning in 1909 with most built in 1924-25. At the northwest corner of Main and Sixth is a two story building designed by Riverside architect Seeley L. Pillar. It contains several small rooms on the second level that once served as a hotel. A 1983 reconfiguration added the Old Main Emporium courtyard surrounded by several small stores. Remodels have since altered the original storefronts, but the lightly decorative undulating roofline and overall brick face give the buildings their historic appeal.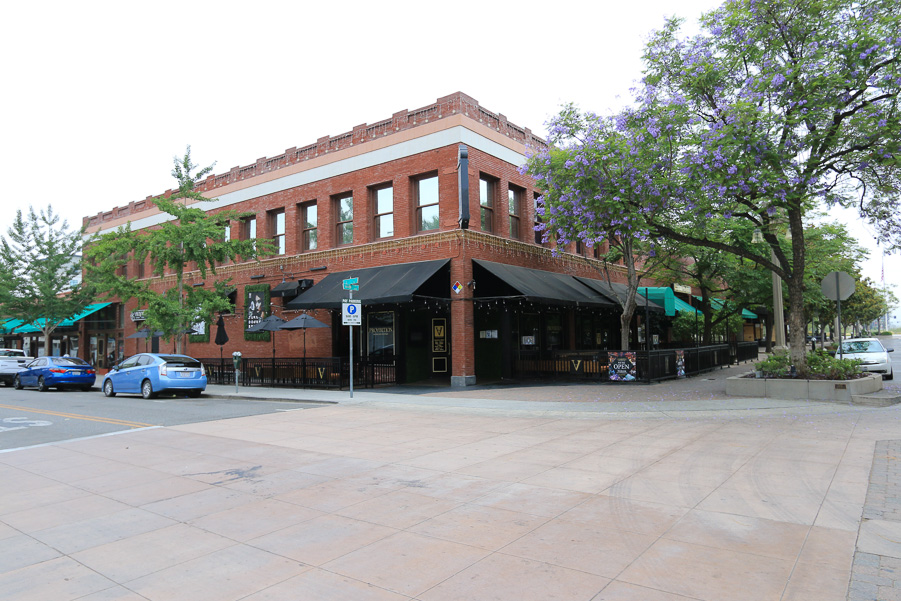 Enterprise Company Building (1909) — 3580-82 Main Street - Designed by Riverside architect Seeley L. Pillar, the Mission Revival styled structure includes a corner tower with arched openings and small perches. Other elements include a mission bell shaped parapet, tiled shed roof and arched entry. Next door (3594 Main) is a thin storefront that was originally a walkway between the two adjacent buildings. The small structure, likely built in the early 1940s, has a large display case and glass blocks, aqua colored tile and stucco façade above a wooden door. It once served as a barber shop.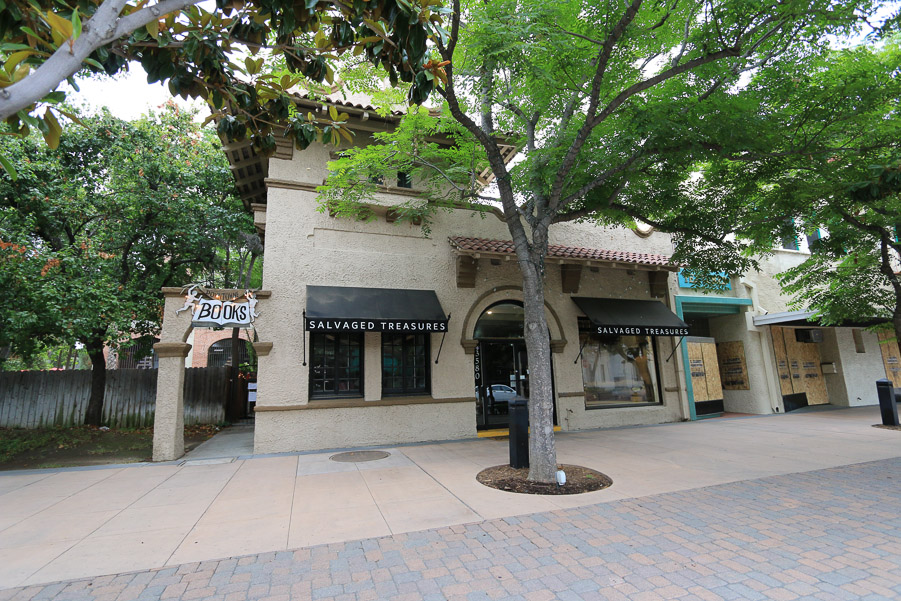 Riverside Water Company (c.1900) — 3596-98 Main Street — Originally sharing the Mission Revival design of 3580-82 Main, the Riverside Water Company building has had at least two major updates. The first ( c.1920s) included an expansion of the second level and makeover of the corner tower, which received a small dome. Later remodels toned down the Mission styling by removing the tower dome, adding wrought-iron elements, updating the storefronts and attaching a large canopy over the sidewalk.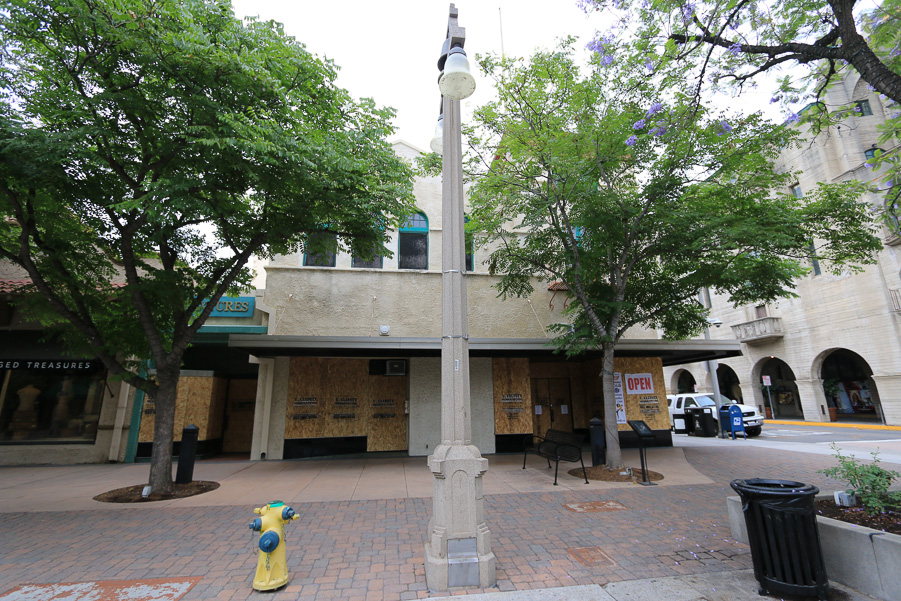 Mission Inn Annex (1921) — 3655 Sixth Street — Originally built to house employees of the Mission Inn Hotel, the elaborately styled building shares designs with interior portions of the Mission Inn, including the Alhambra Court, Author's Row and Court of the Sky areas. Note the heavy use of arches, clay tiles, exposed brick and wrought iron. A 1926 expansion included the addition of the foot bridge over Sixth Street connecting the Annex to the Mission Inn. A mural on the face of the top level says: "A Good Head And Nimble Hand Is As Good As Gold In Any Land."
Mission Inn Hotel (1902-1932) — 3649 Mission Inn Avenue — The current structure, built in several phases between 1902 and 1932, exhibits a variety of styles and themes. With towers, domes, arches, grand stairways and flying buttresses, the Mission Inn is a remarkable showcase of early-California, Spanish, Moorish and even Oriental architecture. It is considered the largest Mission Revival structure in the United States. Several architects were used, including Arthur B. Benton, Myron Hunt, G. Stanley Wilson and Peter Weber.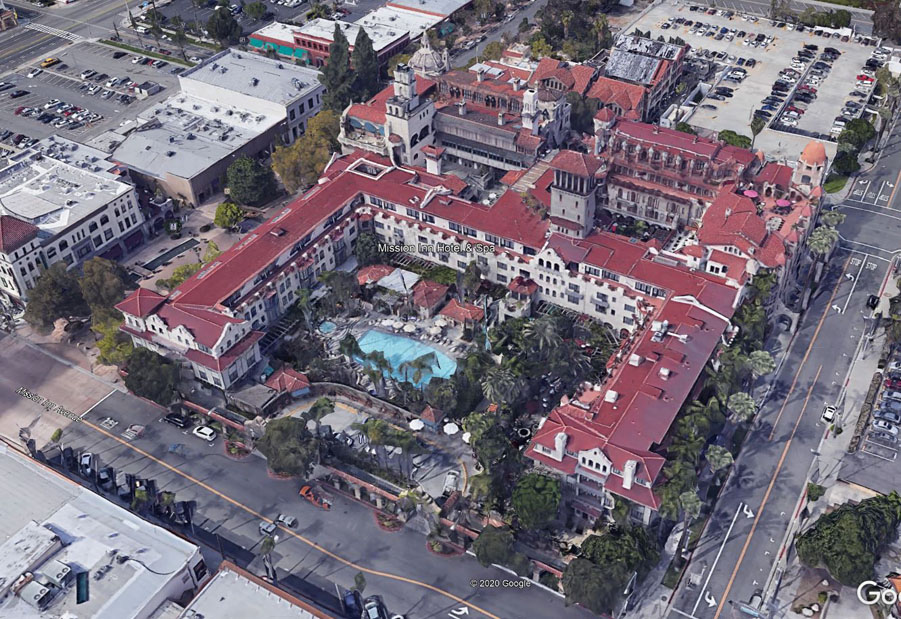 Sears / Mission Galleria (1938) — 3700 Main Street — Built to house Sears, the multi-level structure was designed by noted Riverside architect Henry L.A. Jekel and features Art Deco/Moderne styling, complimenting the nearby Westbrook's building. The structure includes a flat roofline with stepped corners, tall pilasters, rectangular multi-paned windows and diamond-patterned open grilles.
Mahatma Ghandi statue (2005) — Main Street pedestrian mall — Created by artists Mandan & Aruna Garge of India, the statue commemorates the universal message of peace and non-violence of Mohandas Karamchand Gandhi, often referred to as Mahatma (or "Great Soul"). Surrounded by granite, slate and several Indian Champa trees, the 9-foot, 1.5 ton bronze statue depicts Ghandi and seminal events from his life with inscriptions showcasing Ghandi's values and guiding principles.
Dosan Ahn Chang-Ho statue (2001) — Main Street pedestrian mall — Known as an astute educator and patriot, Korean-born Dosan resided in Riverside between 1904-1913, working in the city's citrus groves and teaching fellow Koreans. While in Riverside, Dosan conceived the Young Korean Academy and formulated the basis for the Provisional Government of Korea, which he later organized and joined in 1919 as interim Prime Minister and the Minister of Labor. The statue commemorates his lifelong commitment for advocating Korean independence from Imperial Japan.
U.S. Post Office (1939) — 3890 Orange Street — The Moderne / Spanish-Colonial Revival styled building is downtown Riverside's second facility specifically built for postal uses. Its elegant design includes arched entryways, iron railing balcony and a corner tower capped with a metal roof and small cupola. Built at an estimated cost $175,900, the building sports an Art Deco/Moderne interior.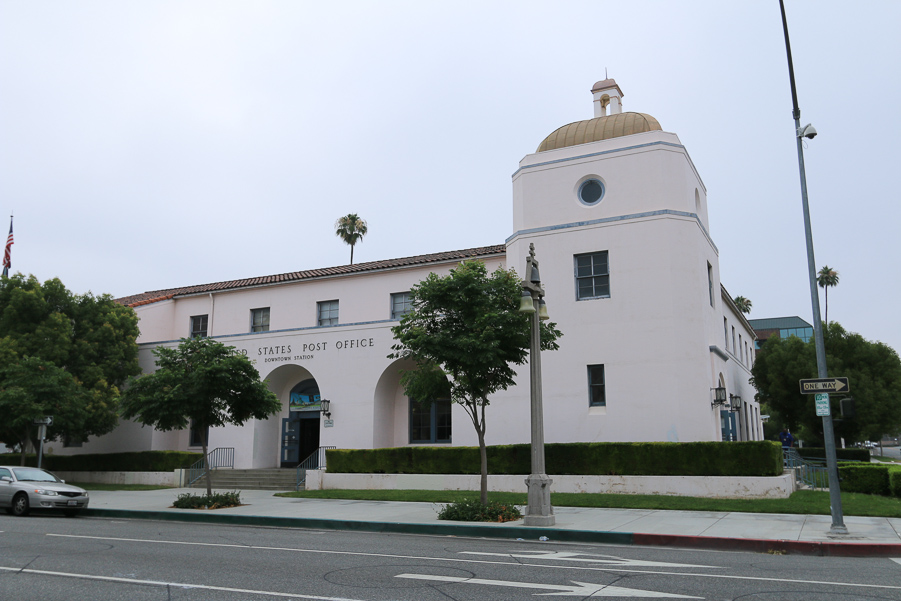 M.H. Lerner Building (1927) — 3605-49 Tenth Street — One of the few fully-exposed brick structures remaining in downtown, the Italian Renaissance-styled building was designed by Joseph R. Scheneck for Moses H. Lerner. Still owned by family descendents, the structure contains a clay tile roof, recessed casement windows, wood spindles and decorative pediment above an arched entrance.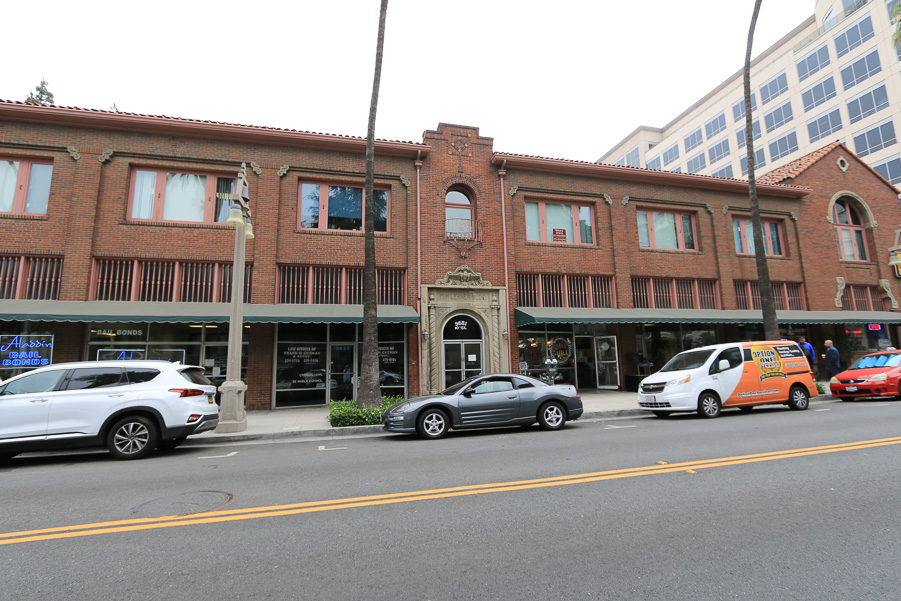 Riverside County Courthouse (1903) — 4050 Main Street — Designed by Franklin Pierce Burnham of the architectural firm of Burnham and Bliesner of Los Angeles, the Beaux Arts Classical-styled courthouse is patterned after both the "Grand Palais" (Grand Palace) and "Petit Palais" (Little Palace) from the 1900 Universal Exposition (World's Fair) in Paris, France. Note the highly decorative façade with elaborate pedestals and intricate decorative elements.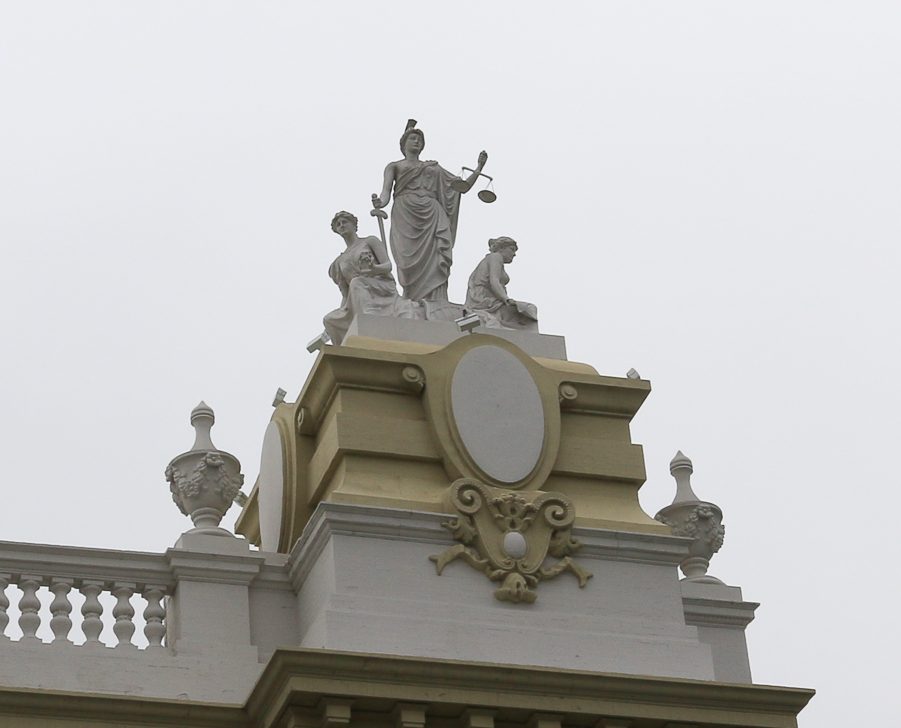 Inside is a grand hallway that also includes Classical designs, that we thought we wouldn't be able to see. However, today was our lucky day! We met a friendly and accommodating security guard that not only let us in, he also approved my picture taking inside. What a treat!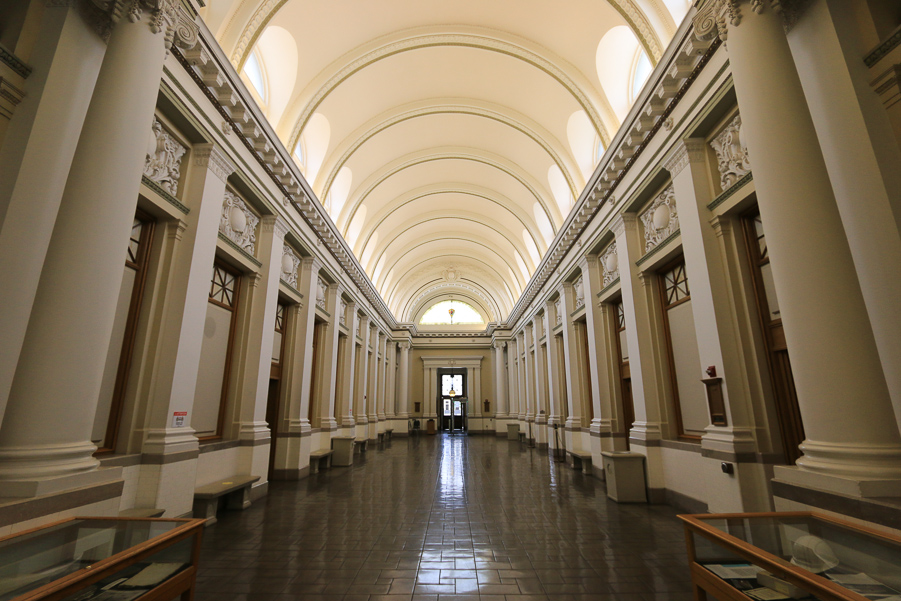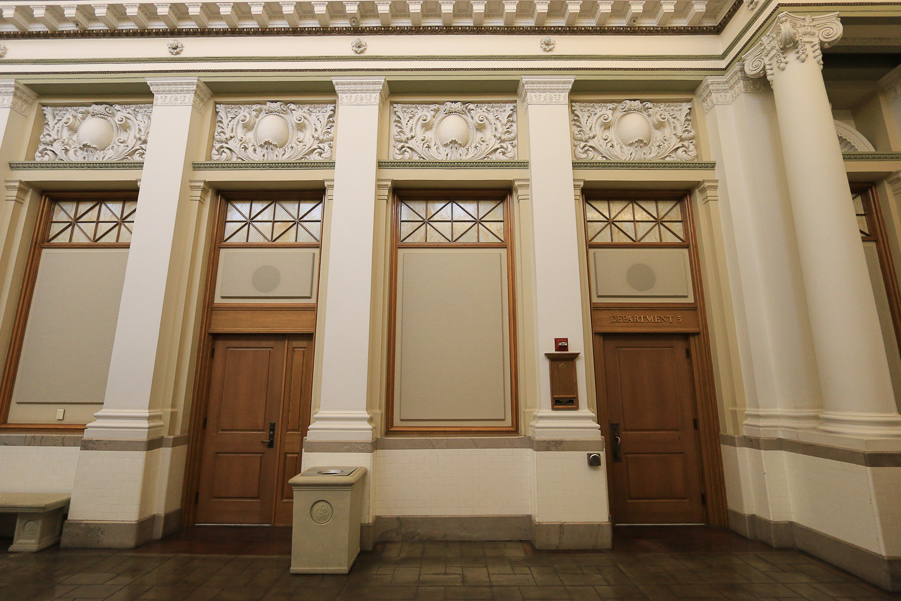 Presley Hall of Justice (1991) — 4100 Main Street — Located adjacent to the historic county courthouse, the Robert Presley Hall of Justice is the primary criminal courts building for Riverside County. Designed by Riverside-based Clinton Marr & Associates, the six story structure includes a large arched entryway and capped metal roof. The outdoor plaza is named after California Justice John G. Gabbert, a longtime resident and prolific civic promoter who turned 100 in 2009.
Security Investment Company/Provident Bank (c.1925) — 4001 Main Street — The Beaux Arts-styled structure designed by G. Stanley Wilson compliments the neighboring county courthouse. The rectangular-shaped building includes a flat roof with boxed cornice and plain frieze. The façade contains multi-pane windows flanked by tall pilasters and decorative pediment above a wood-frame entrance. The overall look of the building, which has seen almost no change since first being built, is one of strength and security.
Martin Luther King Jr. statue (1999) — Main Street pedestrian mall — Designed by artist Lisa Reinertson, the "I Have a Dream" statue celebrates Dr. King's 1963 speech outlining his vision for a color-blind society reflecting equality. Known for his peaceful and nonviolent methods at ending racial segregation and discrimination, the bronze statue depicts a civil rights march led by King.
Cesar E. Chavez Memorial (2013)- Main Street pedestrian mall - Designed by Ignacio Gomez.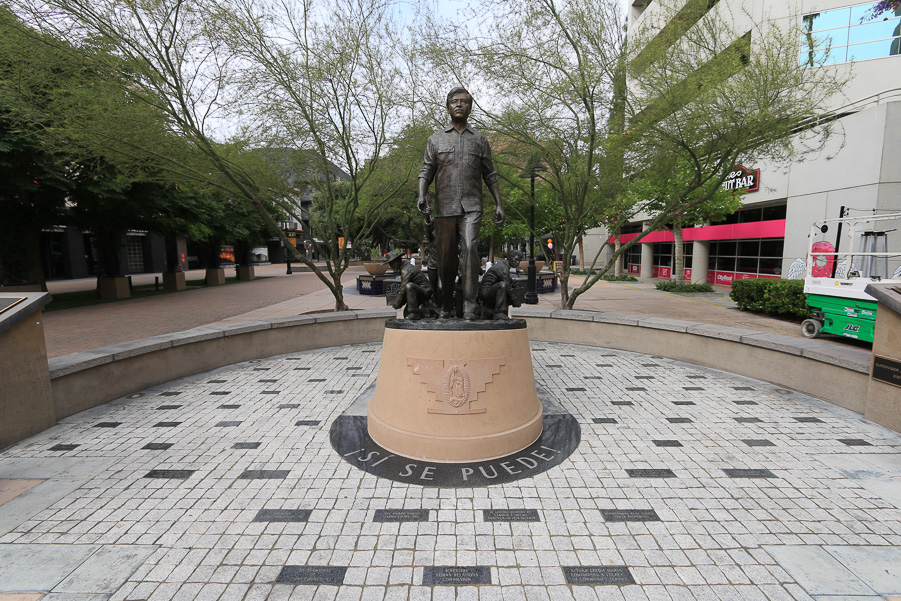 This was our third and last walking tour of Riverside, which is full of many historic and beautiful buildings. Our friendly guard at the courthouse, told us about "Butterfly Alley," which we never would have found on our own.