May 27, 2020 - Wednesday - We were back in Riverside today for another walking tour, this one on historic University Avenue.
El Cabrillo Building (c.1900) — 3595 and 3587 University Avenue - The main feature of the El Cabrillo building, which received an extensive remodel around 1930, is a small corner tower with open grilles and slightly-pitched tile roof.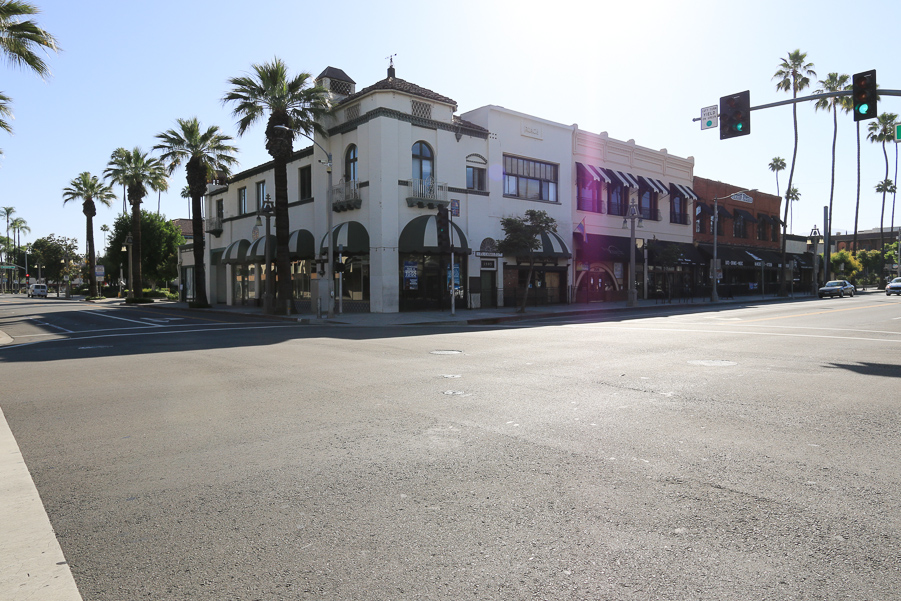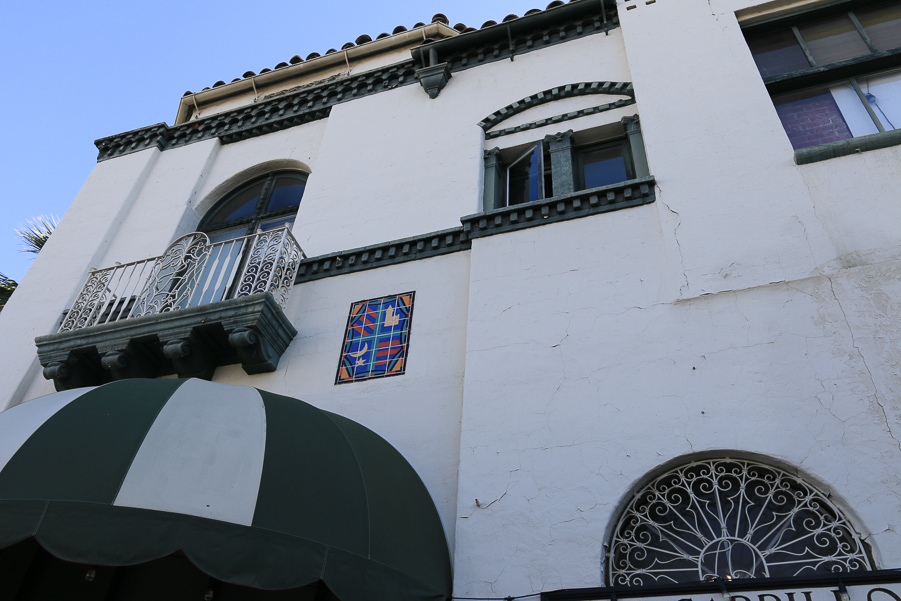 3575-81 University Avenue - This 1910-1924 structure by Riverside architect G. Stanley Wilson was built by Cresmer Manufacturing Co. It includes a roofline with decorative brickwork and four large second-story windows.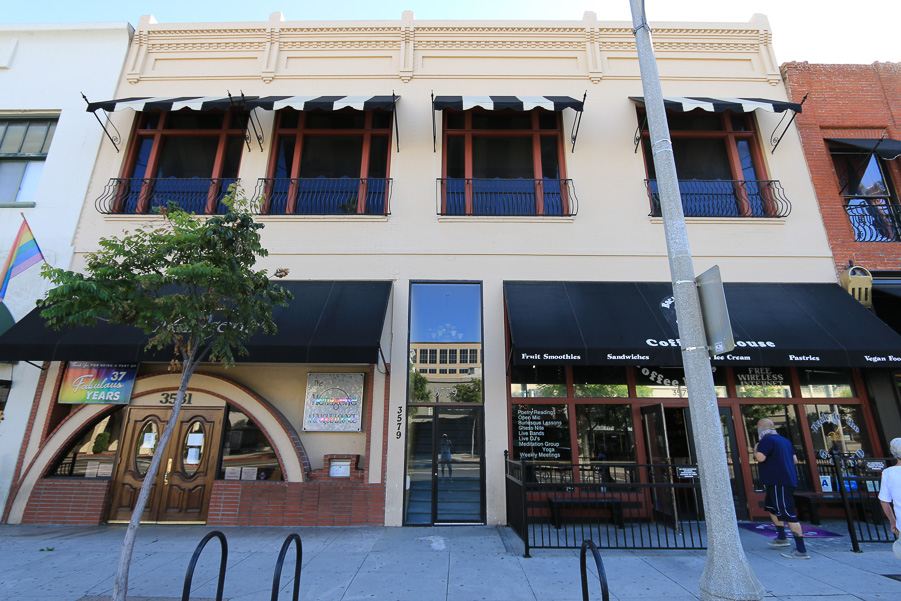 3557 University Avenue - Originally built for a carriage company in 1926, the building includes a painted brick façade, wood frame windows and decorative roofline.
YMCA / Life Arts Building (1909) — 3485 University Avenue -Designed by architect Arthur B. Benton, the three-level Italian Renaissance Palazzo-styled structure was originally built for the YMCA, which occupied the building until 1968. The semicircular brick patterns emphasize the building's arched windows. A small central courtyard on the second level can be seen from the Lemon Street side. A formal stairway on University Avenue provides an elegant entrance.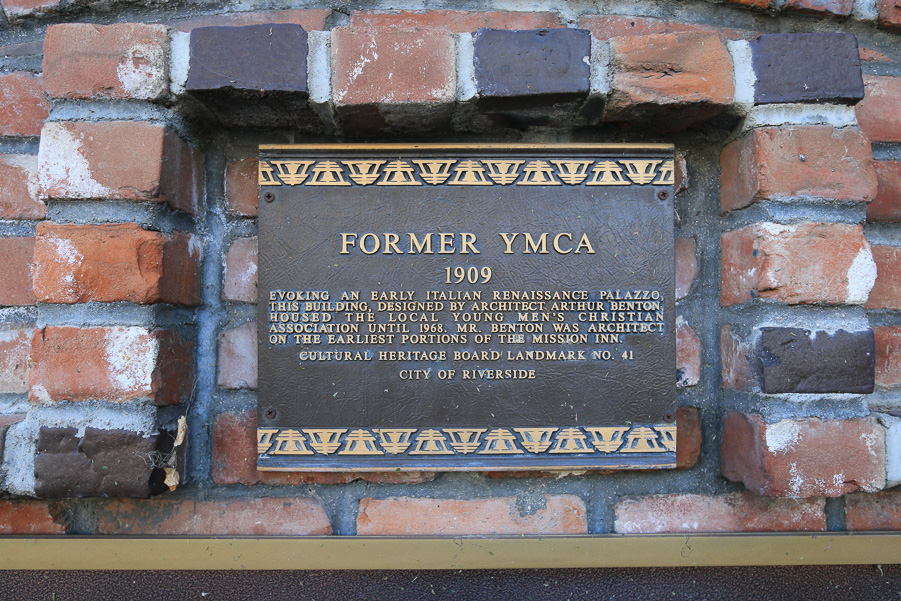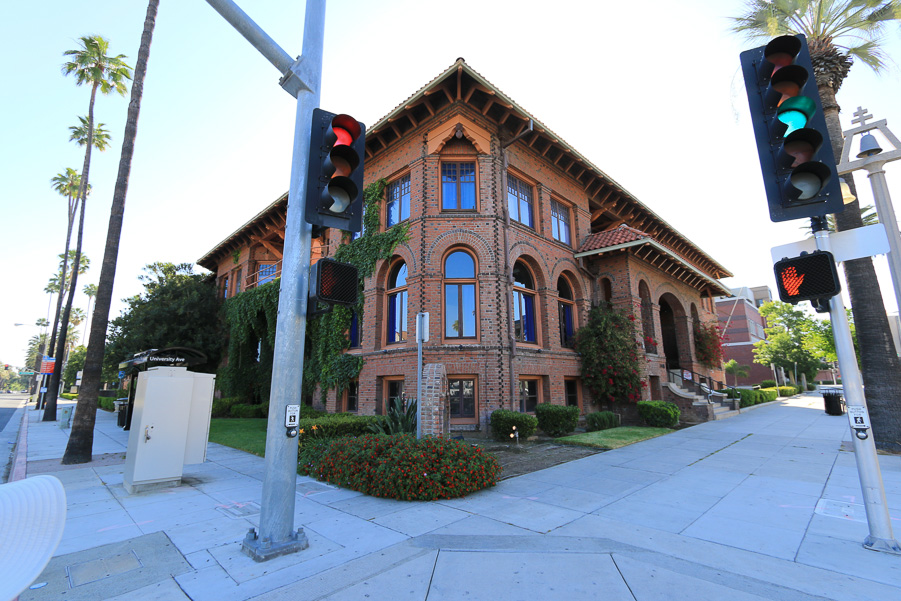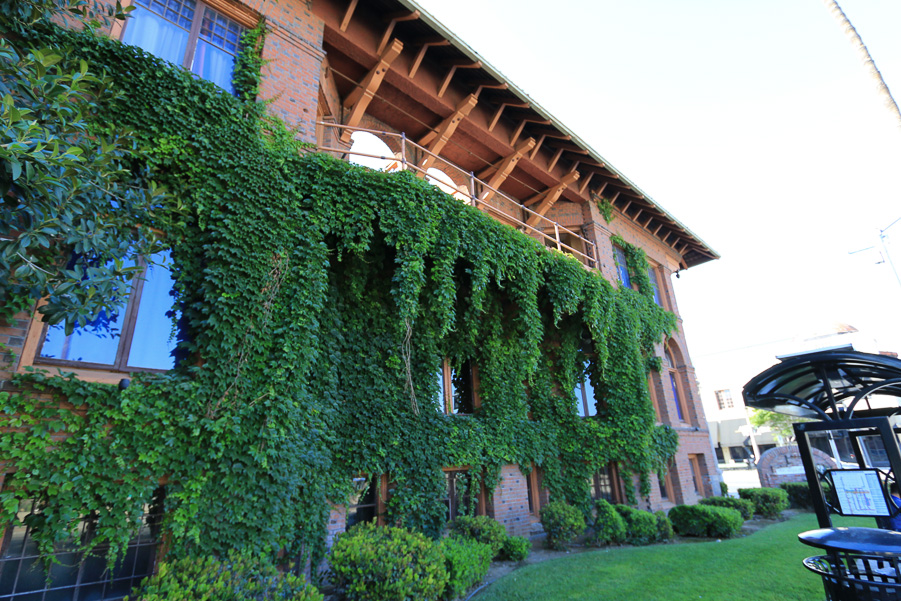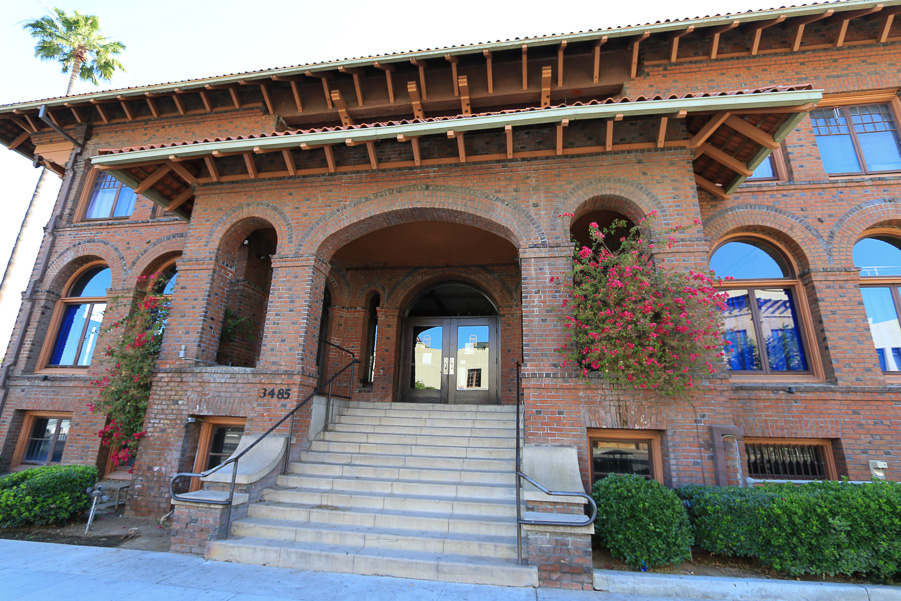 Button Building (1918), Crescent Hotel (1909) — 3452 and 3466 University Avenue - The Spanish-Mission Revival-styled Button Building includes an offset arch and Spanish tiles shaded by two ornate eaves supported by carved stone corbels. The two-story structure currently houses the corporate offices for Farmer Boys restaurants. Its attached neighbor is the Classical Revival-styled Crescent Hotel. Its roofline includes a decorative pediment also supported by ornate corbels of carved stone.
Aurea Vista Hotel (1927) — 3480 University Avenue - Designed by architect G. Stanley Wilson, the Spanish-Moorish Aurea Vista Hotel replaced the original corner structure that was essentially a continuation of the adjacent Crescent Hotel. Note the still-existing signage and metal "HOTEL" canopy above the University Avenue entrance. Built by Riverside's Cresmer Manufacturing Co., the roofline contains an undulating parapet with a large dome at the corner.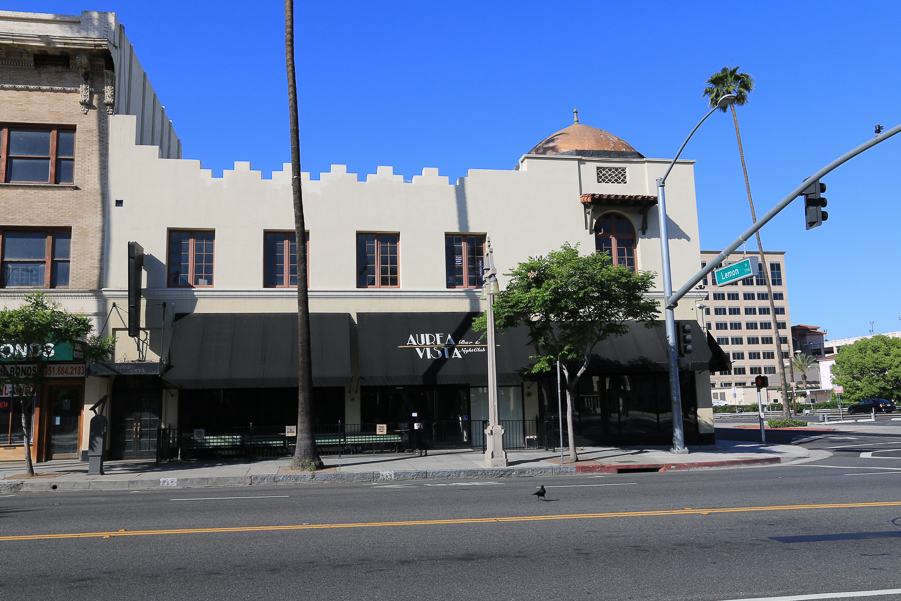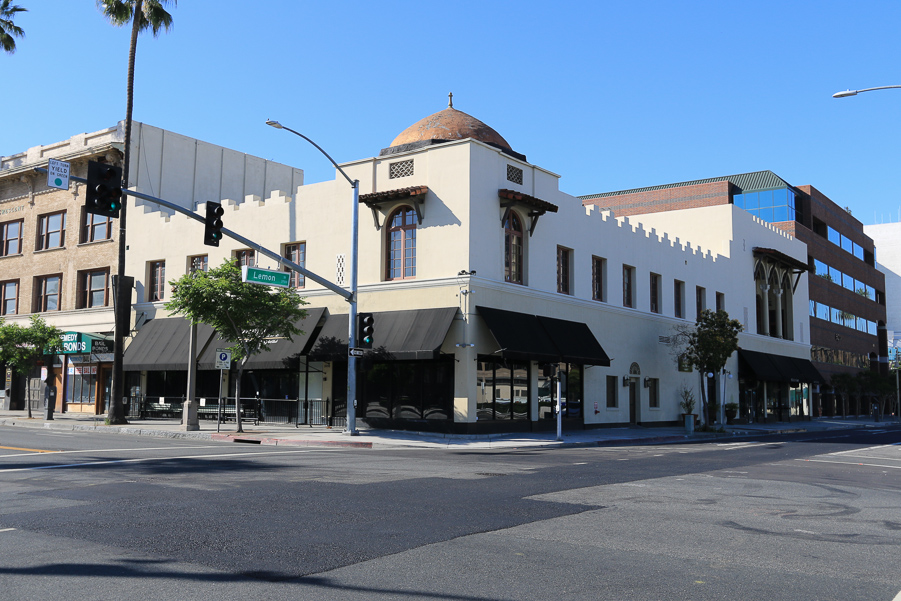 E.M. Bonnett Building (1908) — 3800 Orange Street — The Spanish Colonial Revival building is notable for the fact that a nine arch arcade supporting the second level along Orange Street was added as part of a street-widening project in 1929. Rusticated concrete quoins decorate the corners while large arched windows emphasize the structure's arcade. Wood beams, hanging lanterns, richly-colored highlights, wrought-iron balconies and shutters enhance the building's overall Spanish flavor.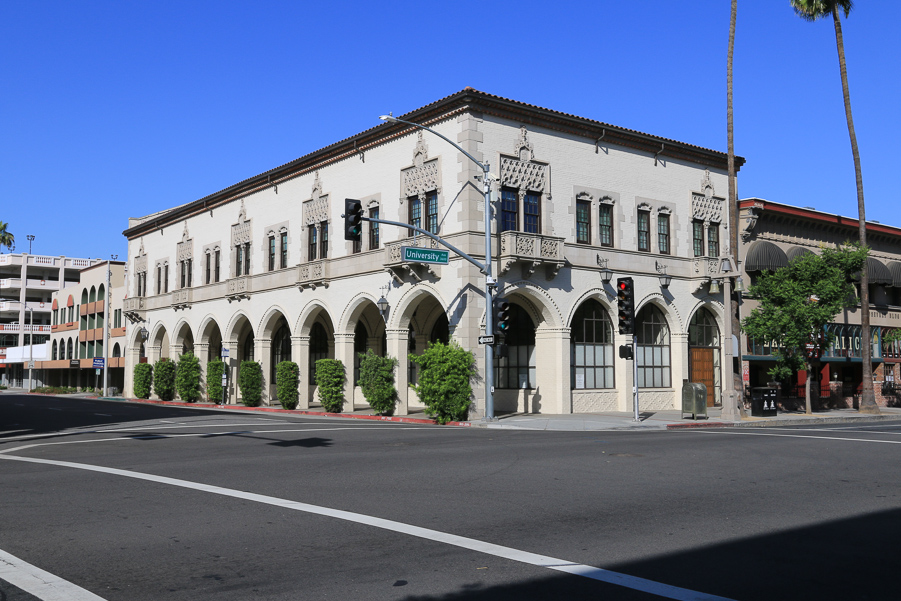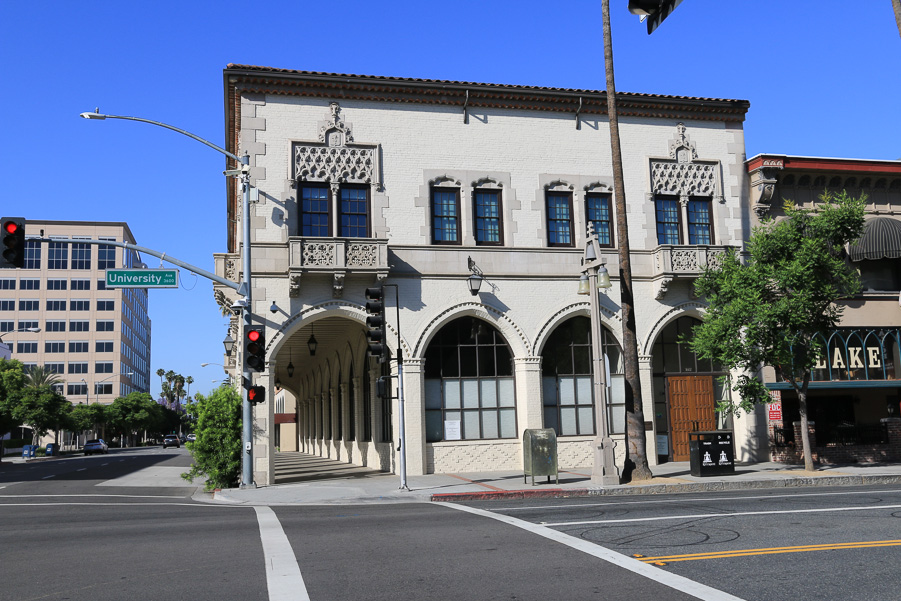 Roosevelt Building (1903) — 3616-38 University Avenue — Designed by the Los Angeles firm of Burnham & Bliesner, the Italianate-styled building was named for President Theodore Roosevelt, who visited Riverside in 1903. The front façade is topped by an arcaded corbel cornice with decorative shell and flower designs.
3642 University Avenue (1920) — Often mistaken as an old fire station, this Colonial Revival inspired building features a brick façade with arched header atop a recessed entrance. Notice the covered walkway above the alley that connects a parking garage to an office building.
Riverside First National Bank (1911) — 3800 Main Street — Designed by architects John Parkinson (L.A. City Hall) and George Edwin Bergstrom (The Pentagon), the 4-story Italianate-styled bank building includes recessed windows and an elaborate cornice with decorative brackets and deep overhang.
UCR / California Museum of Photography (1929) — 3824 Main Street — The symmetrical 3-story Art Deco styled structure was built by Riverside's Cresmer Manufacturing Co. and housed an S. S. Kress department store for 50 years until 1980. Stylized designs adorn several sections of the building's face.
Rouse's / Culver Center of the Arts (c.1895) — 3834 Main Street — One of Main Street's oldest remaining buildings (originally known as the Chapman Building) the structure has been remodeled several times, with the most significant being a 1924 makeover by Riverside's G. Stanley Wilson. A remodel for UCR / Culver Center of the Arts in 2008-10 refurbished much of Wilson's Spanish influenced designs on the second level facade, including double doors, iron balconies, patterned-tiles and decorative medallions. For several decades the building housed Rouse's, considered as Riverside's high-end department store.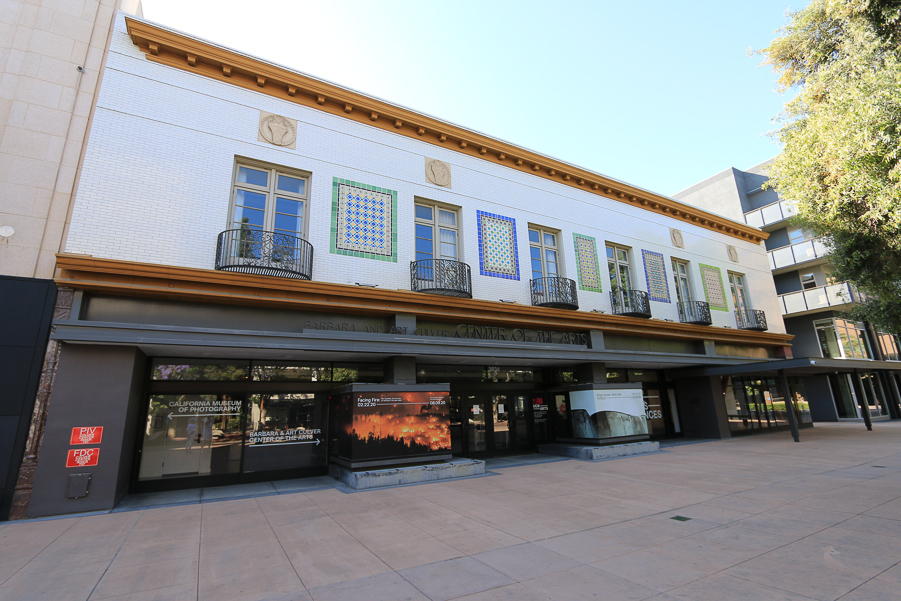 Riverside City Hall (1975) — 3900 Main Street — Envisioned as a southern anchor for the pedestrian mall, the 7-story building was designed by the firm of Riverside architect Herman O. Ruhnau (who designed several of Riverside's modern buildings). The façade's richly-colored brick veneer, sweeping arches and deep recesses add subtle touches of early California architecture to the distinctly modern structure.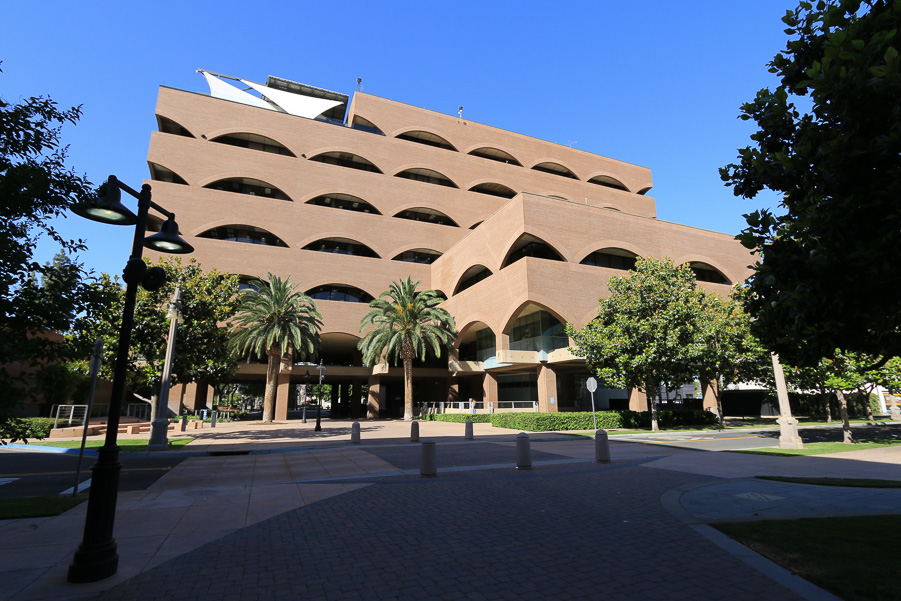 White Park Building (1924) — 3900 Market Street — A mixture of Spanish and Italian Renaissance designs, the 2-story structure was originally built as the Potter Hotel. The northern portion contains ornate balconies and a highly decorative frieze that wraps a hipped roof.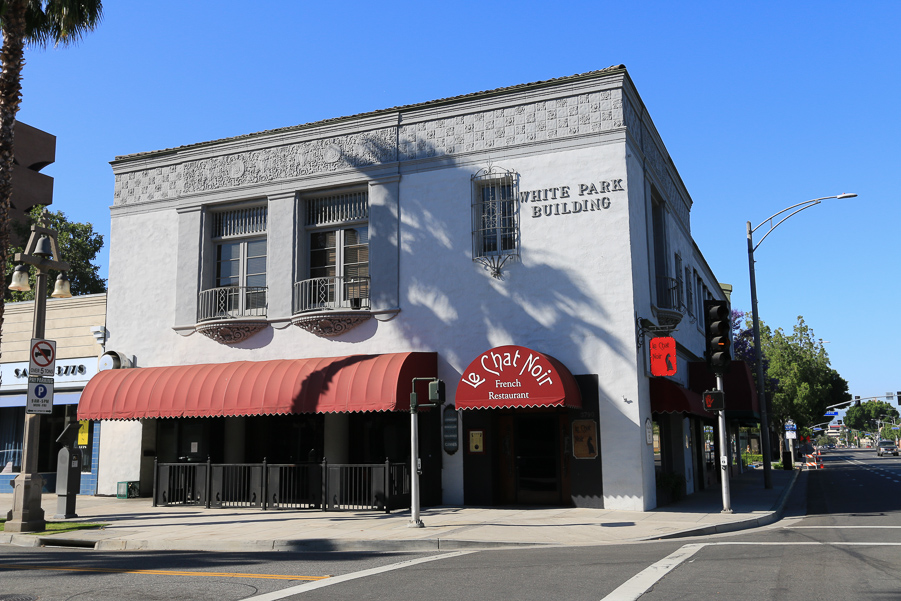 Riverside Finance / Citrus Belt Savings (1926) — 3855 Market Street — Completely refurbished in 2012 as part of the RCC School for the Arts, the Spanish Baroque (Churrigueresque) style building was designed by well-known Los Angeles architect Stiles O. Clements. The structure's highly ornate façade had been hidden behind a modern false front since the early 1960s, only to be recently rediscovered.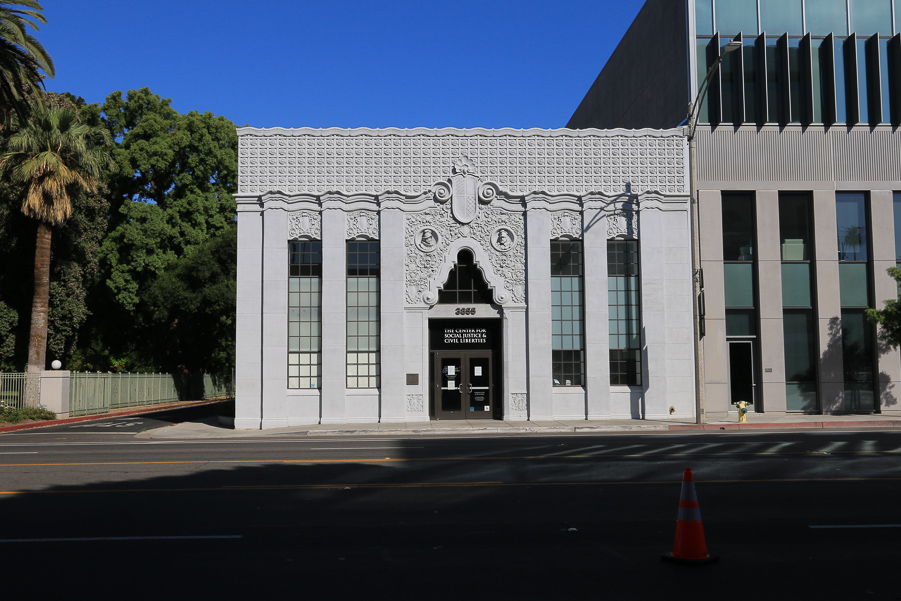 Jackson (Harada) Building (c.1886) — 3643 University Avenue — Unsuspecting to most passersby, the Jackson Building is actually one of Riverside's most notable buildings due to its connection to the Harada family, who operated its Washington Restaurant beginning in 1911. The family is known for the landmark case challenging California's 1913 Alien Land Law, which prohibited property ownership by non-citizen aliens. Also of interest inside is the old bank vault still intact from when the building was used by Riverside's Provident Bank.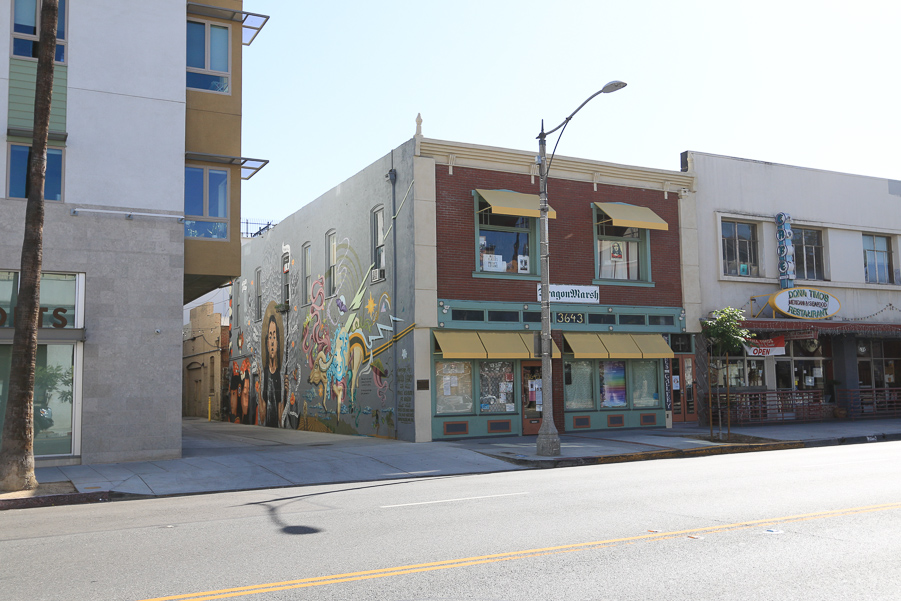 3635 University Avenue — Sporting a Moderne front on the second level and updated metal doors, windows and display cases on the ground level, 3635 and 3631 represent typical post-WWII modernization of older commercial structures in downtown Riverside.
U.S. National Bank Building (1961) — 3601 University Avenue — This two-story structure once housed United States National Bank and is a unique blend of traditional and modern designs. Its size and scope match those of neighboring buildings yet its heavy use of stone veneer is of strict mid-century designs. Also noteworthy is the building's full-length balcony along both sides. Its most interesting aspect, however, is the "drive-thru" lane for the automotive teller window — a once vital component for all modern, post-war banks.
Even though things have "opened up," it was nice being out in the early morning with little traffic or crowds. Riverside is a nice city to stroll in.