July 26, 2016 - Today we ended our long wait for tickets to see the Rain Room exhibit at LACMA (Los Angeles County Museum of Art). Only LACMA members were entitled to see the exhibit since its opening in October 2015. However tickets became available to the public this month, that is, if you could score them. After 45 minutes of Internet attempts in June, I landed two tickets for today. Before we actually experienced it, the only indication of what to expect came from LACMA's exhibition notes, which read:
"Rain Room is an immersive work by the London-based artist collective Random International. Within this large-scale installation, water falls continuously to create a cacophonous interior downpour that pauses wherever a human body is detected. Upon entering this surreal environment, visitors can move through this space freely, protected from the water falling all around them."
When we entered the room, it was very loud, like a downpour, because it was. The room was about 70 feet by 70 feet and the area that "rained" was about 50 feet by 50 feet. So there was a 10 foot wide "dry" track around the inner, rainy square.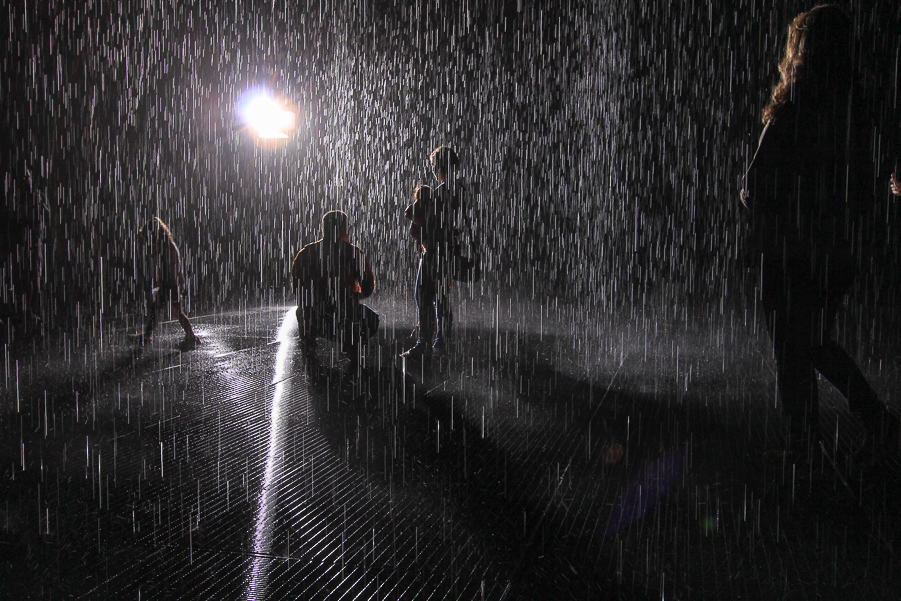 We were in the room for roughly 15 minutes and we loved every minute of it. The sensors provided a dry area around you just about one arms length from your body. Here's Judy looking like she should be soaked, but she remained dry.
It was a very unique experience for both of us, after a big breakfast at Norm's.