November 5, 2014 - Today we went to the Palm Springs Art Museum for the first time. This is the primary location of the organization, which is located in downtown Palm Springs. Last month we had visited their satellite location in Palm Desert. The museum was founded in 1938 as the Palm Springs Desert Museum and is a regional art, natural science and performing arts institution for Palm Springs and the Coachella Valley. Today its permanent collection consists of more than 24,000 objects.
We were completely unprepared for what this museum offers. The art is displayed on four floors and it gives the visitor a great sense of its spaciousness. The museum is filled with light and very welcoming.
This towering stack of oversized plates, created by Robert Therrien, comes with a surprise. As you walk around it, the entire sculpture appears to be rotating and following your movement. Of course, Judy walked in a clockwise direction around it and I walked in a counter-clockwise direction just to make sure it really wasn't rotating. It wasn't, but it is wild!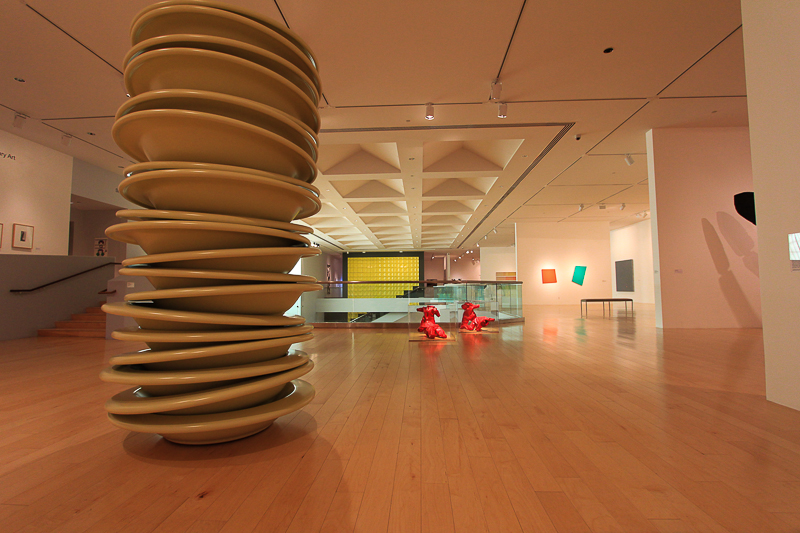 For some reason, Palm Springs seems to attract artists who have the ability to create lifelike sculptures. Their talent in creating these works boggles the mind. We both expected this "girl" to jump up at any moment. The artist, John De Andrea calls her "Joan." It is oil on polyester resin with synthetic hair.
This one is called "Old Couple on a Bench" and the artist is Duane Hansen. It is polychromed bronze with mixed media and accessories.
In addition to the fine art and modern art, Native American art, Mesoamerican art and artifacts from other cultures are predominately displayed.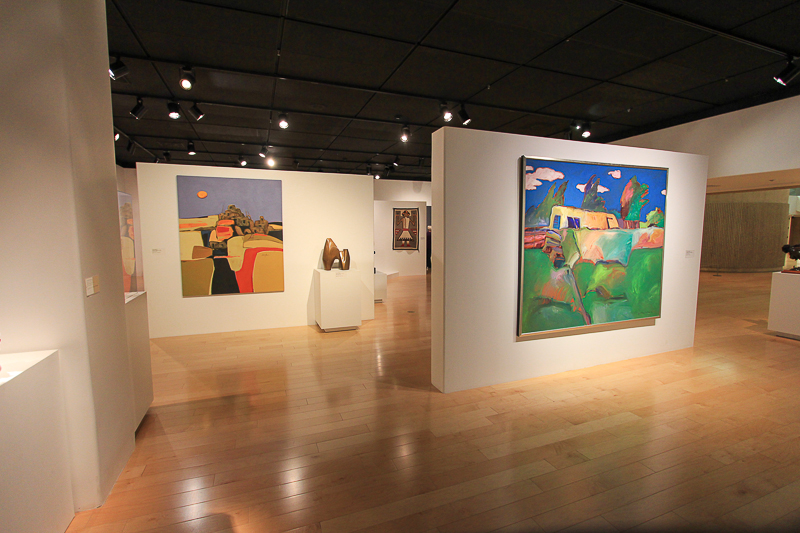 This Picasso sculpture called the "Angry Owl" was captivating.
This horse was done in bronze and painted. The artist, Deborah Butterfield, used natural driftwood as her inspiration.
The museum also has a permanent glass collection on display.
And who couldn't love this puppy? It was sculpted by Yoshitomo Nara and it's called "Your Dog."
After the museum it was time for lunch at a new place for us, Lulu California Bistro, which is also in downtown Palm Springs. They had a fixed-price three course lunch special that we both took advantage of and it was delicious. Judy started with a Caesar Salad with whole leaf Romaine lettuce heart and baked Parmesan crisp. Her entrée was "Meatloaf a la Lulu," which is Chef Arturo's red glazed angus beef meatloaf topped with a savory mushroom sauce, with mashed red skin potatoes and fresh seasonal vegetables. For dessert, she had a flourless, triple chocolate cake. My choices were: Wild Mushroom Soup with a touch of white truffle olive oil and chopped chives, Lobster Ravioli and a wonderful Tiramisu to finish.
It was another great adventure.