October 8, 2011 - Our adventure today was inspired by another Groupon deal for chair lift tickets and lunch at the top of Mount Baldy. The Mount Baldy Ski Lifts is a family owned and operated ski resort that has "scenic rides" on its main chair lift in the off-season. While commonly called Mount Baldy, the mountain's actual name is Mount San Antonio which rises to 10,068 feet. It is the highest peak in the San Gabriel mountain range and is the highest point in Los Angeles County. The peak marks the boundary between the San Gabriel and the San Bernardino mountain ranges. Mount Baldy is roughly 30 miles from Redlands, as the crow flies, and is quite visible to us from around town.
When we reached the chair lift, we realized we could have dressed a little warmer since we were told that it was only 34° at the top. Also, the ride up on the old chair lift (circa 1950's) was really windy.
The main chair brings you to the lodge where we had breakfast and the food at the "Top of the Notch" was very good. The altitude of the lodge is 7,800 feet. This view is looking southwest out towards the Pacific Ocean. Catalina Island, which is about 80 miles away is visible in the distance just above the ocean fog.
This view is looking at the top peak of the ski area that is at 8,600 feet. The small chair servicing that peak only runs in skiing season.
As we headed back down, the wind had died down and the ride was quiet and peaceful.
The snow-covered trails look a lot different when bare.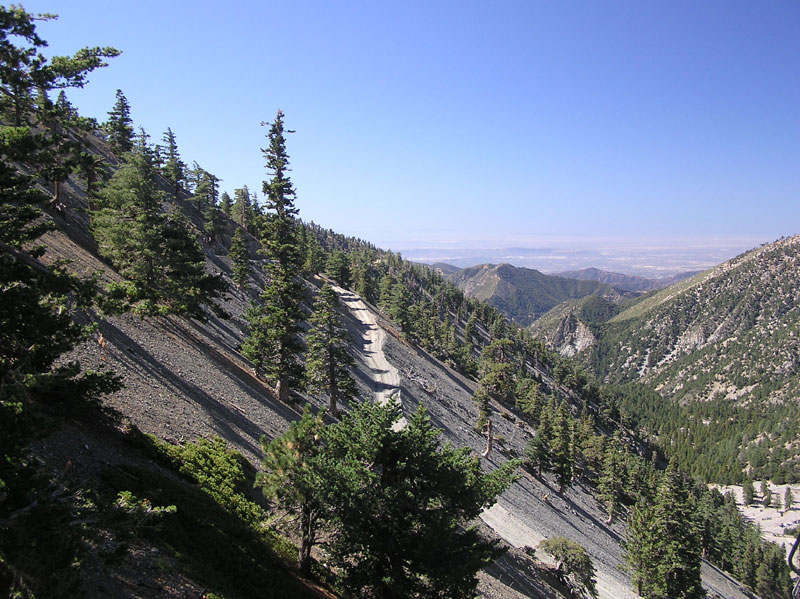 Next time that we come back will probably be during August when it's a lot warmer at the top. Apparently two weeks ago people were wearing shorts and flip-flops, but not today!