July 17, 2013 - Today's adventure brought us to the Pacific coast to see the Mission San Luis Rey de Francia (Mission of Saint Louis, King of France) in Oceanside. The Mission was founded on June 13, 1798 and was named after King Louis IX of France, who led crusades to the Holy Land in the 13th century. Its nickname was "King of the Missions." The current church, built in 1811, is the third church on this location. It is a National Historic Landmark, for its pristine example of a Spanish mission church complex.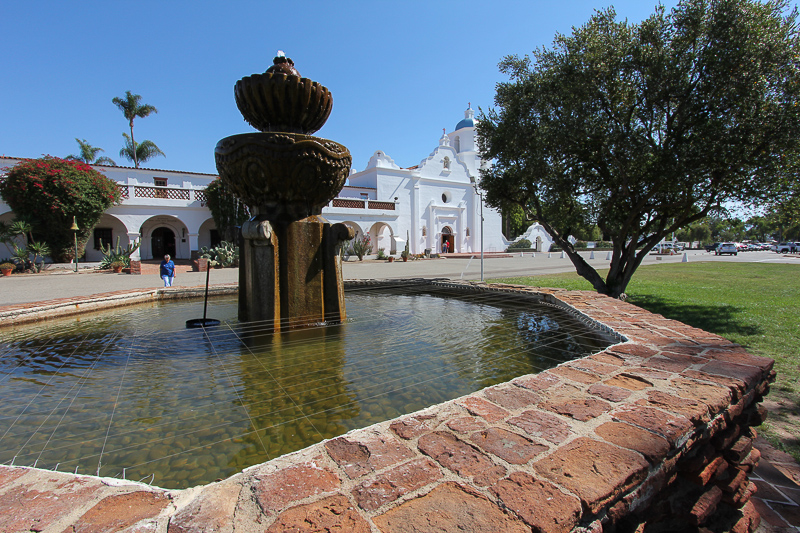 The interior of the church is a beautiful example of Spanish Colonial architecture, both Baroque and Classical in style. The paintings and decorations reflect the combining of Spanish and Indian cultures. By 1830, the Mission was the largest building in California.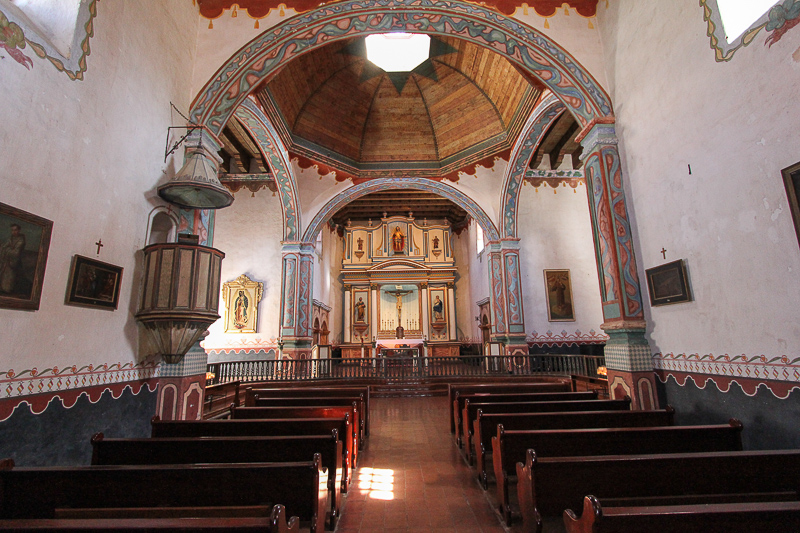 This is the pulpit and the detail of the wall painting is shown on the following picture.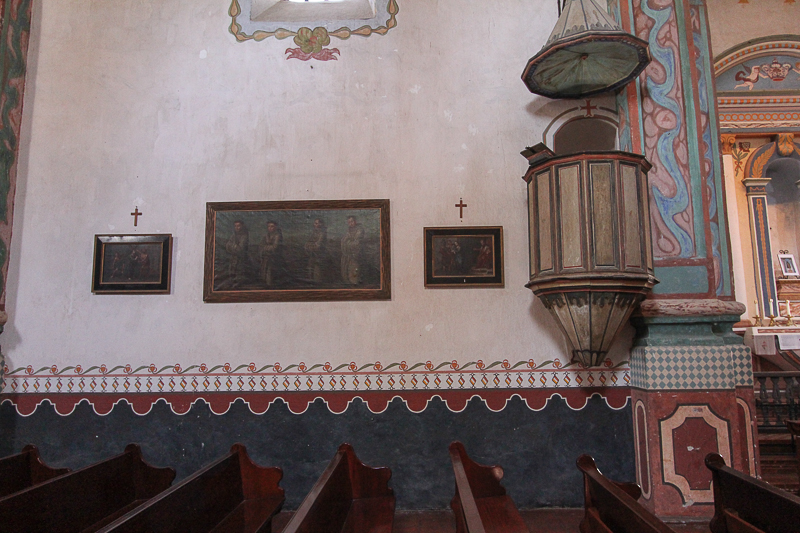 The is the cloister that surrounds a private garden.
The Mission was the site for several episodes of the Walt Disney TV series Zorro in the 1950s. This section of the complex, known as the Quadrangle, is now used as a retreat. The tree behind the right hand side of the arch is supposedly the oldest pepper tree in California. It's just to the right of center in the following picture.
This is the cemetery that is adjacent to the church.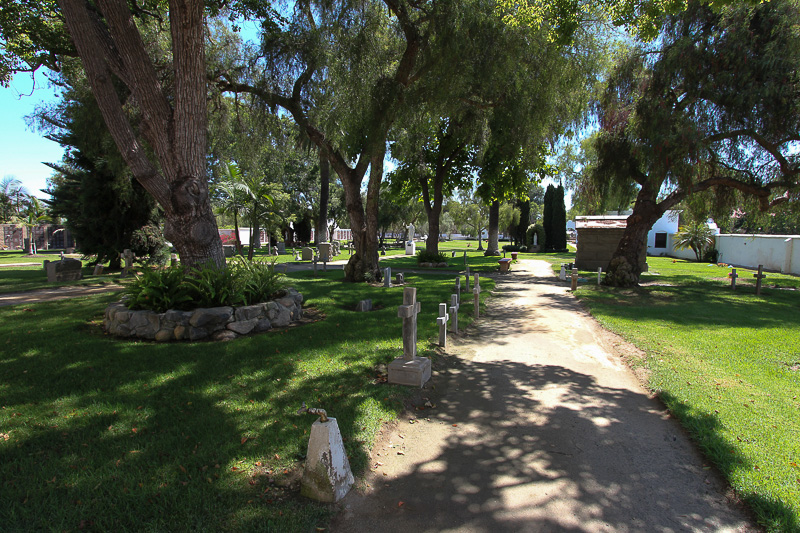 This aerial view from Google Earth shows the layout of the building complex. The large Quadrangle is on the left, the original cloister is in the center, the Mission to the right and the cemetery is behind and to the right of the Mission.
After touring the Mission, we headed down to the harbor for lunch. We went to the Monterey Bay Canners, which is right on the water and very pleasant. I had grilled shrimp wrapped in bacon and Judy had their fried combo plate of Atlantic cod, beer battered shrimp and coconut shrimp. Everything was superb! Before leaving town, we stopped by the Oceanside Pier to enjoy the salt breeze.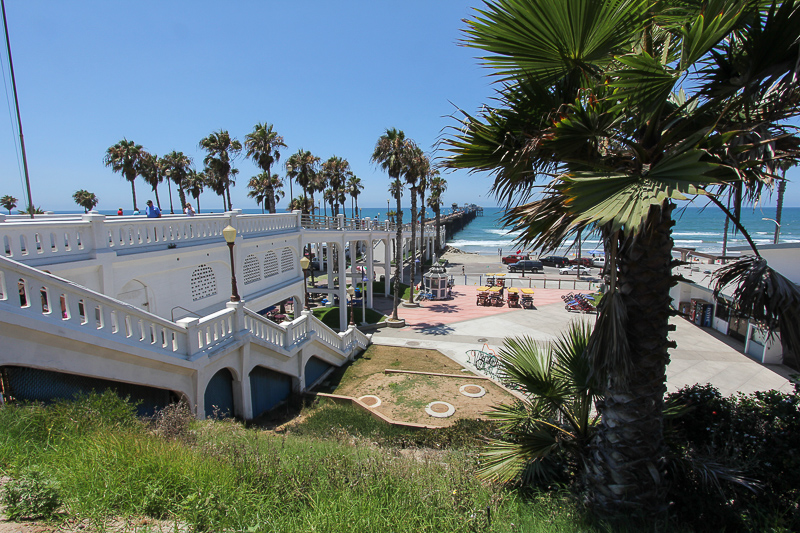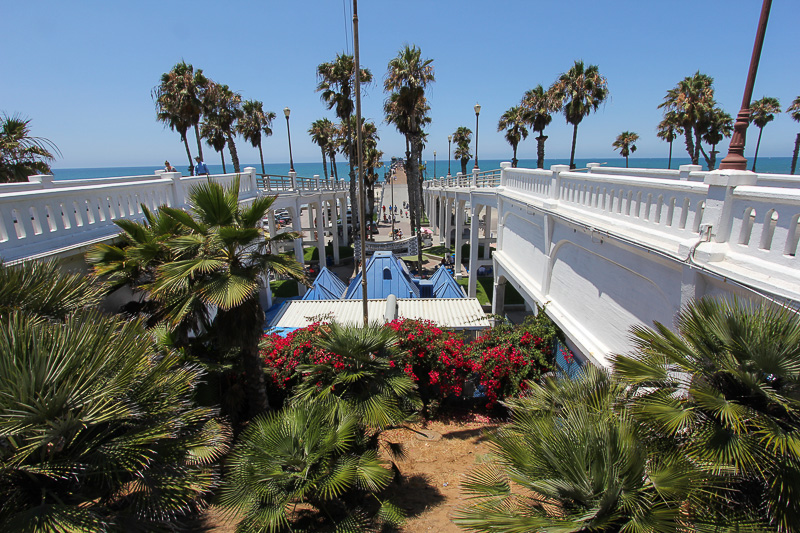 On the way out, we noticed the California Surf Museum. This is great, since we now have a good reason to return here and enjoy another lunch at the Monterey Bay Canners.