November 20, 2013 - Today's adventure was to drive east to the Coachella Valley to visit Cabot's Old Indian Pueblo Museum in Desert Hot Springs. This relatively small city is located north of Palm Springs off the main highway leading to Joshua Tree National Park. This is a view looking west at the San Jacinto Mountains with some of Palm Springs' windmills in the foreground.
In 1913 (at age 30) Cabot Yerxa homesteaded 160 acres in what is now Desert Hot Springs. Pressed for water, he dug a well with pick and shovel, discovering the now famous hot mineral waters of Desert Hot Springs. Nearby, he dug a second well and discovered the pure cold water of the Mission Springs Aquifer. These two wells, hot and cold, give the area its name, Miracle Hill, which straddles a branch of the San Andreas Fault. Cabot began construction on his pueblo-style home in 1941 and worked on it until his death in 1965 at the age of 81. Cabotís Pueblo Museum is listed on the National Register of Historic Places. The Hopi-inspired structure was hand-made by Cabot, created from reclaimed and found materials. The Pueblo is four-stories, 5,000 square feet and includes 35 rooms, 150 windows and 65 doors.
This is "Waokiye," one of 74 giant Native American heads carved by Peter Wolf Toth. During a 21-year period, Toth carved at least one in each of the 50 states plus several in the Provinces and Territories of Canada. Waokiye is the last remaining head in California. In the Lakota Sioux language, Waokiye is said to mean "traditional helper."
Our hour long guided tour gave us an appetite and we headed over to the Mineral Springs Resort and Spa for lunch at the Capri Restaurant. There are about 24 spas in town, but the Mineral Springs Resort is the largest and most modern.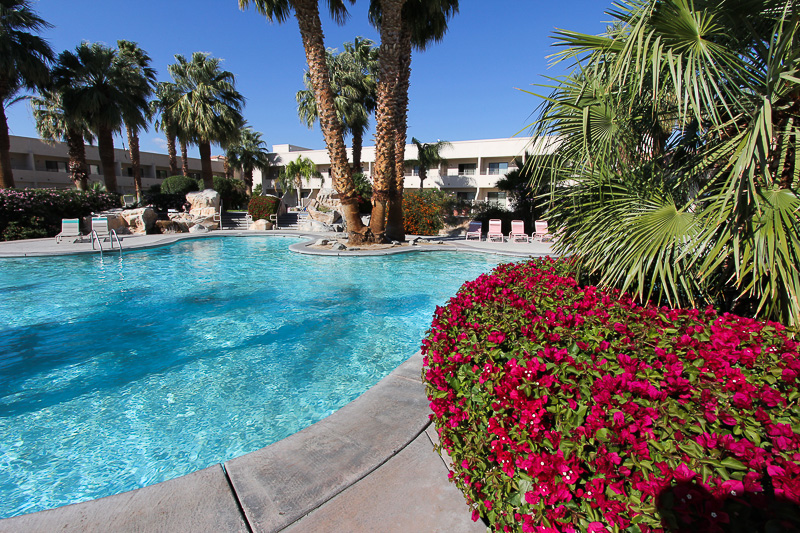 The food at Capri was very good and the atmosphere was lovely. Judy had fish & chips and I had their eggplant parmesan. It was a wonderful day, considering that Redlands was overcast the entire time, while we enjoyed the sun.