October 3, 2015 - Today's adventure brought us to the high desert to see the Animal Acres Farm Sanctuary in Acton ,CA. The Farm Sanctuary was founded in 1986 to combat the abuses of factory farming and encourage a new awareness and understanding about farm animals. Today, Farm Sanctuary is the nationís largest and most effective farm animal rescue organization, having three sanctuaries in the United States. The animals who began their lives abused and neglected now get to spend their days digging in the dirt, basking in the sun, and napping in the straw. There are usually about 100 animals here each day.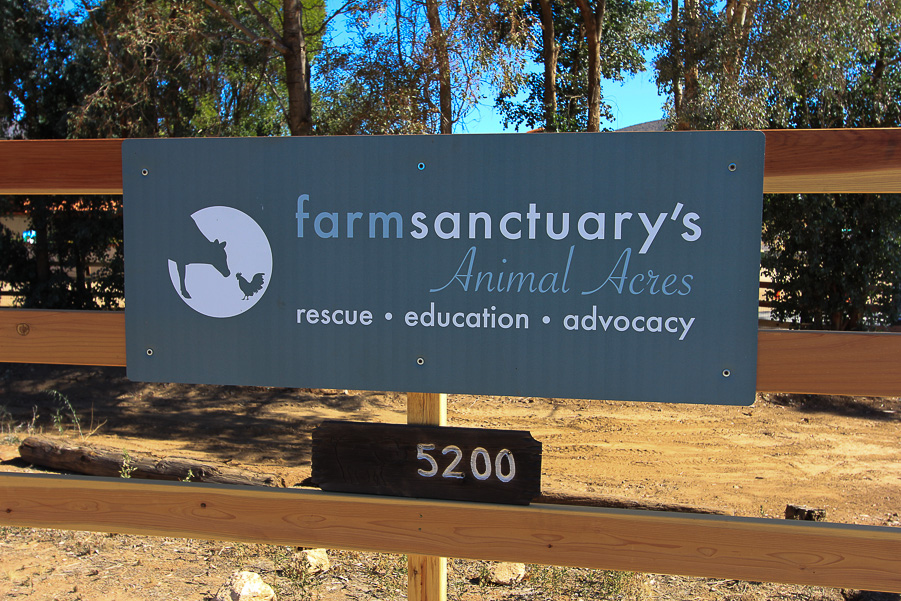 The main courtyard is surrounded by animal pens.
This is the llama Yoda who was brought here for one special purpose; to protect the sheep and goats from wandering coyotes. For some reason, Yoda spooks the coyotes and they haven't had any attacks since he has been patrolling the pasture.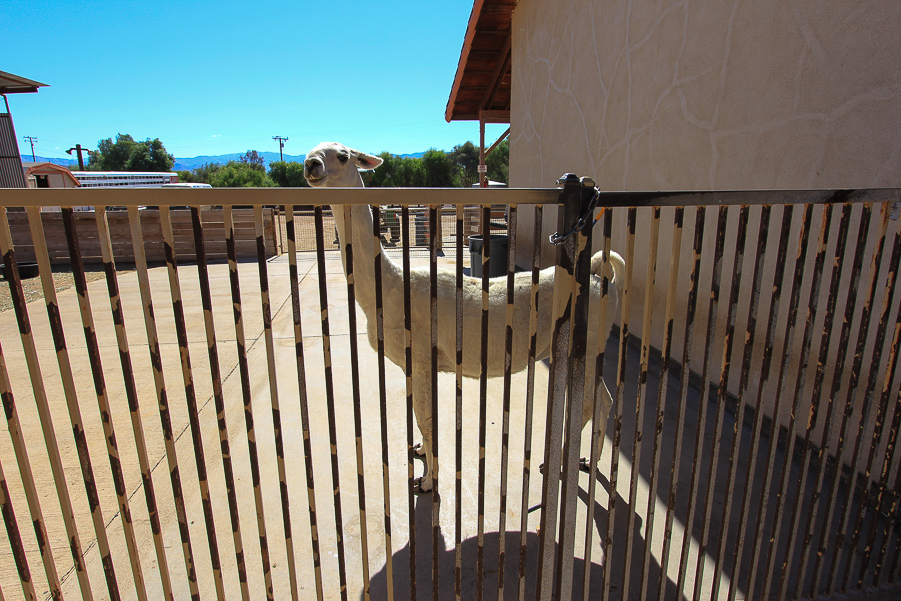 There are chickens, turkeys, ducks and geese here, as well as these two dramatic looking roosters.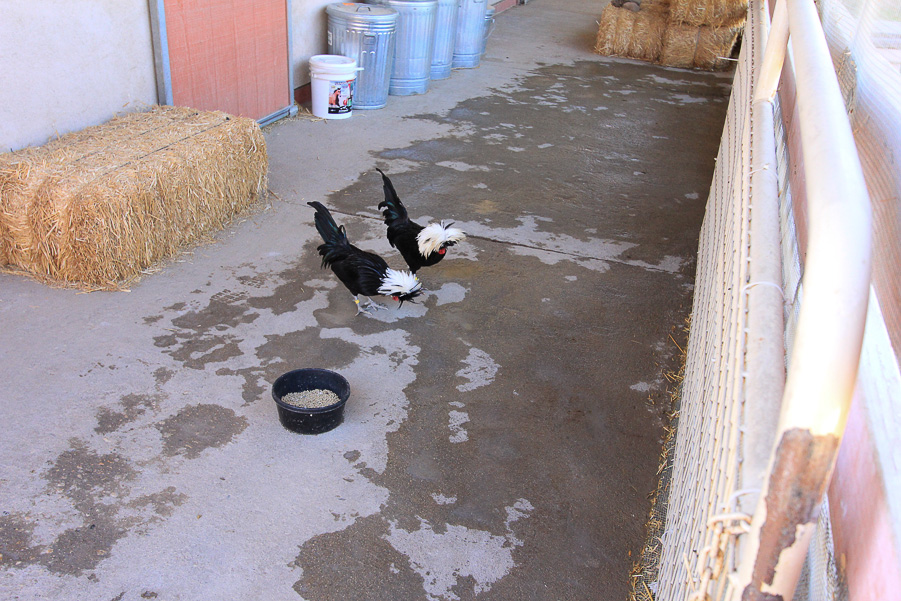 We went into the pig enclosure and all of the residents were sleeping. We were told that the pigs keep their sleeping quarters very clean and "do their business" about 60 feet away in their enclosed area.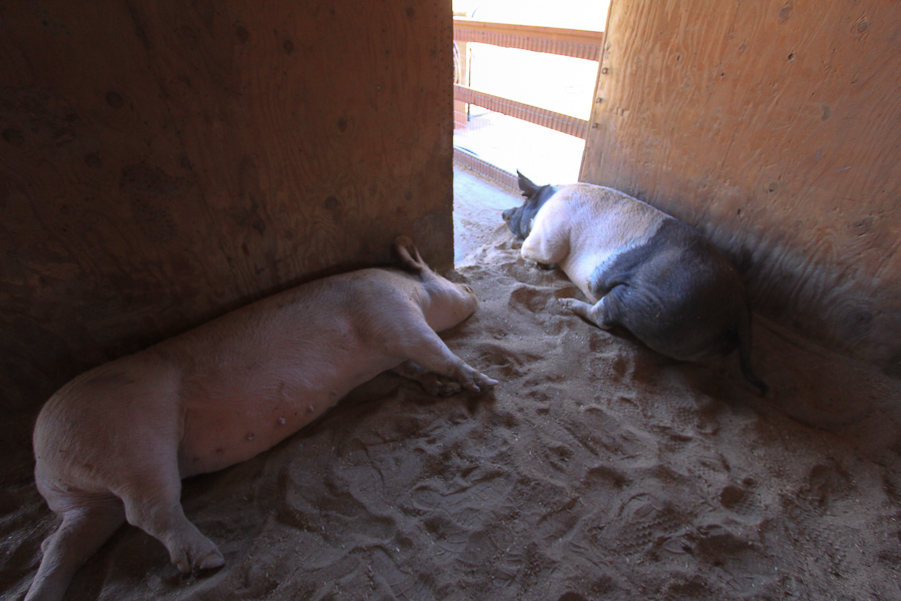 Here's Judy giving Jimmy a belly rub. Jimmy was owned by a homeless man who brought him to the sanctuary since he could no longer take care of him.
This is Bruno on the left and Paolo on the right. When Bruno was just a calf, he fell off a moving transport truck and was brought here. Paolo was attacked by coyotes and his large scar is still visible.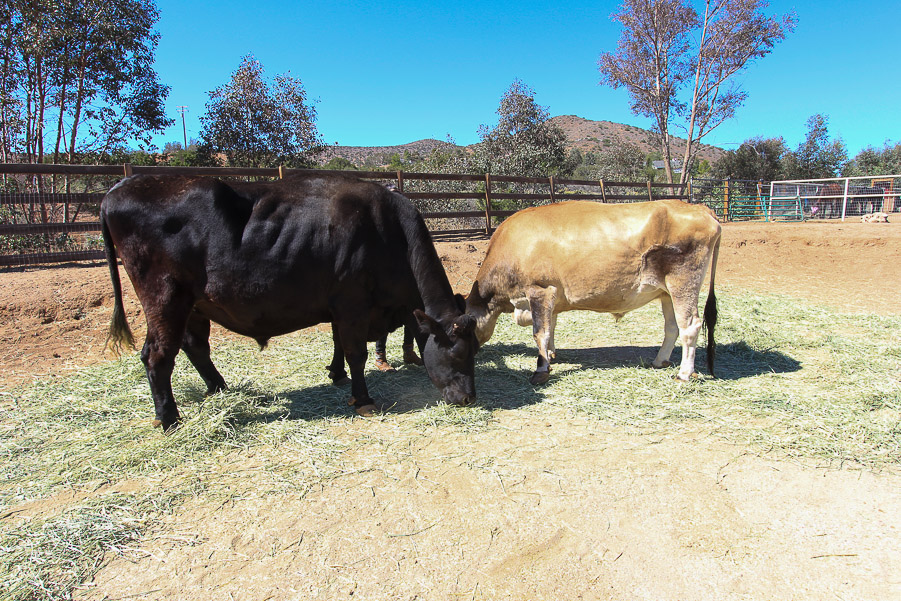 There are many sheep and goats here, being dutifully protected by Yoda. They are very sensitive about their sleeping area, unlike the pigs, so we didn't disturb them inside their pens.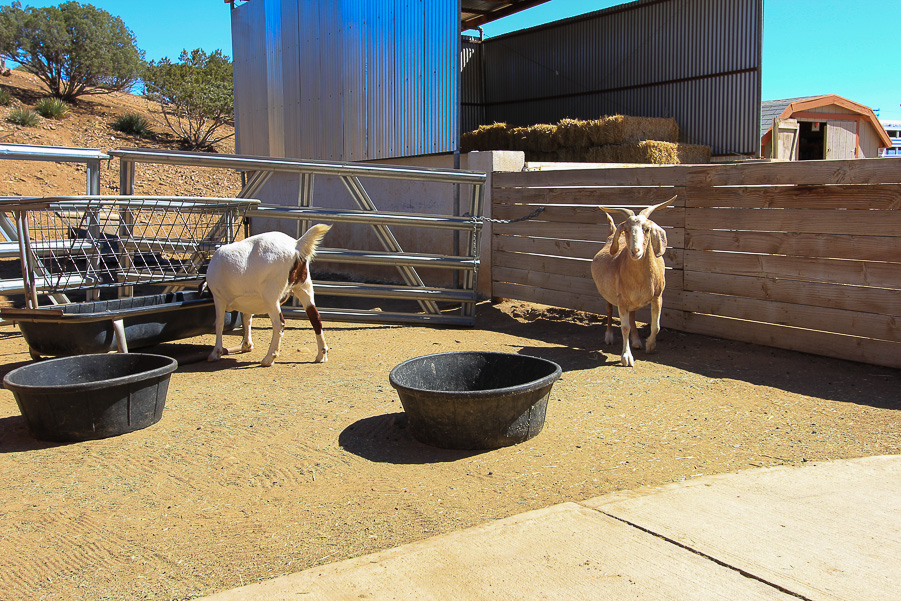 This is Claire getting some loves from one of the volunteers.
Claire's daughter Andrea was born here and the two of them are inseparable.
It was a very nice adventure getting up close with about two dozen of the animals being cared for here. It truly is a sanctuary for them.
On our way to Animal Acres we stopped for breakfast at Rick's Roadside Cafe located in Pinon Hills, CA. It's been awhile since we were last here and we both were anxious to try their specialties. I had their "Bread Pudding French Toast" that was as good as I remembered it from before. Judy had their "Cinnamon Roll French Toast," which was also scrumptious. We walked out extremely satisfied with our choices.