December 21, 2021 - Tuesday - Today we were in the Pico Union neighborhood of Los Angeles to visit the Alvarado Terrace Historic District. The district is located southwest of downtown Los Angeles, along Alvarado Terrace between Pico Boulevard and Alvarado Street. Six homes and a church in the district were designated as Los Angeles Historic-Cultural Monuments in 1971, and the entire district was listed in the National Register of Historic Places in 1984.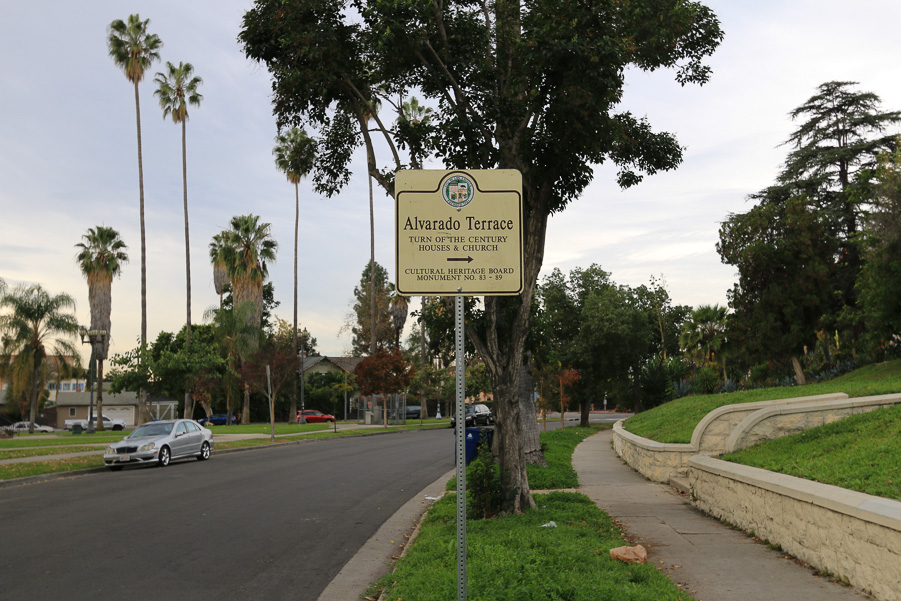 Alvarado Terrace Park is to the right and the mansions are on the left.
The Boyle-Barmore House, located at 1317 Alvarado Terrace, was built in 1905, and the house was designed by architect Charles E. Shattuck in a Craftsman style with Tudor influences, including a three-gabled dormer.
The Cohn House at 1325 Alvarado Terrace was built in 1902 and was designed by Frank D. Hudson and William Munsell.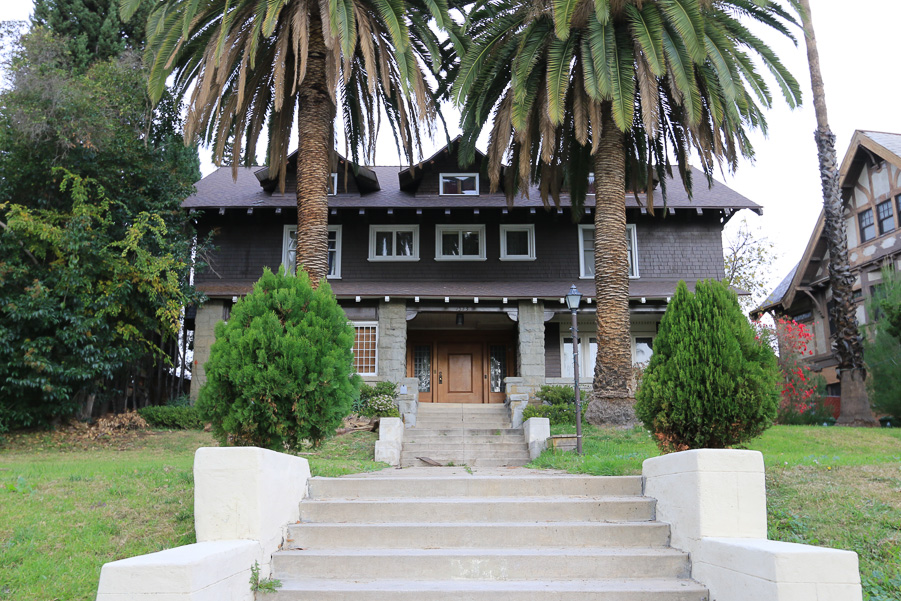 The Gilbert House, located at 1333 Alvarado Terrace, was built on speculation in 1903 by Ida and Pomeroy Powers, who also built and lived in the Powers House next door. Gilbert House is one of the most eye-catching homes in the district built with a mix of Victorian, Shingle-Style and Craftsman styles.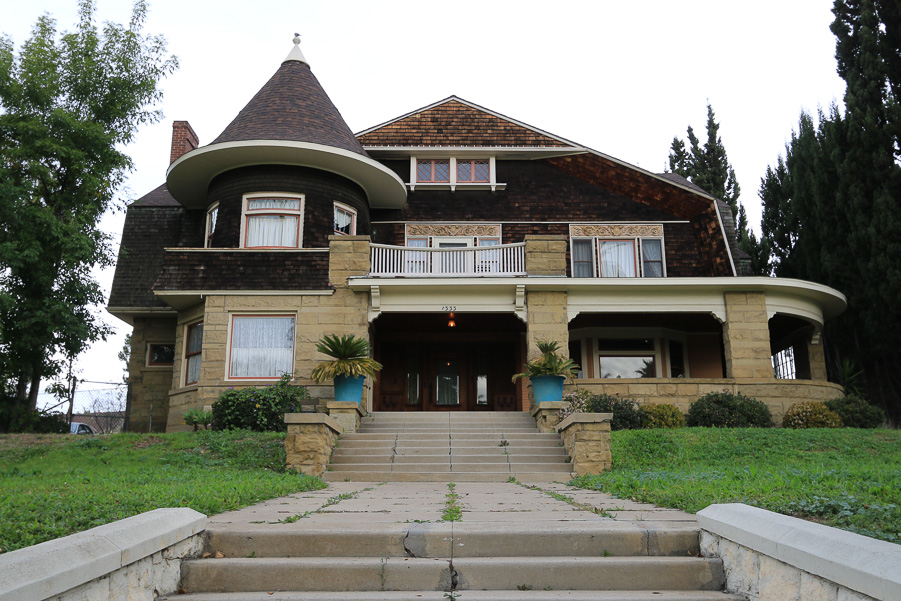 The Powers House at 1345 Alvarado Terrace was built in 1903 for Pomeroy Wells Powers and his wife Ida. Designed by Arthur L. Haley, the home is built in the Mission Revival style, and has been described as "exuberant" and the "flashiest on the block" for its fanciful stucco curlicue.
The Tudor-style Raphael House at 1353 Alvarado Terrace was built in 1903 and was designed by architects Sumner P. Hunt and Wesley A. Eager.
Built in 1902, the Kinney-Everhardy House at 1401 Alvarado Terrace was built by the same architects (Hunt & Eager) who designed the Raphael House next door. The house has been described as "an eclectic combination of elements from both the Queen Anne and Shingle styles."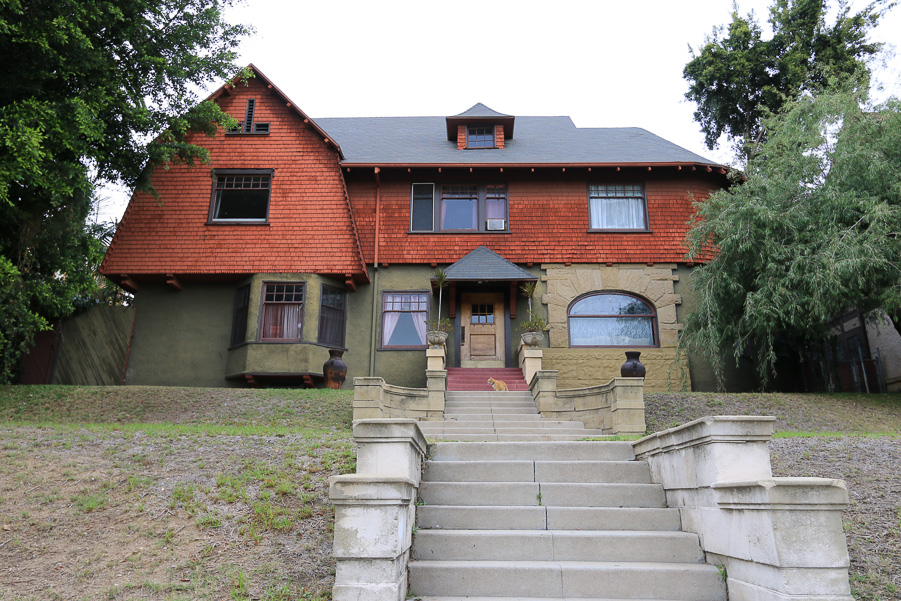 The Milner Apartment building at 1415 Alvarado Terrace was built in 1928 with a steeply pitched roof and a Gothic inspired arched doorway.
This church has had a colorful history, having housed Jim Jones' Peoples Temple from 1970 until their move to Jonestown, Guyana in 1977. In what he claimed to be a "revolutionary suicide", Jones and his inner circle orchestrated a mass murder–suicide in this remote jungle commune on November 18, 1978. The events at Jonestown constituted the greatest single loss of American civilian life in a deliberate act until the incidents of September 11, 2001.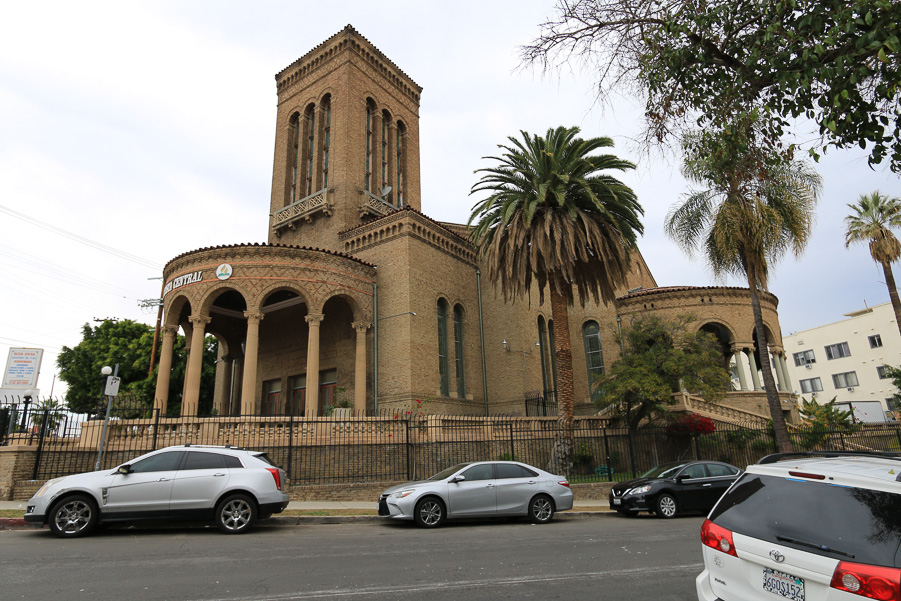 Bisecting the park is the brick paved Powers Place. At 25 feet in length, it's the shortest street in Los Angeles.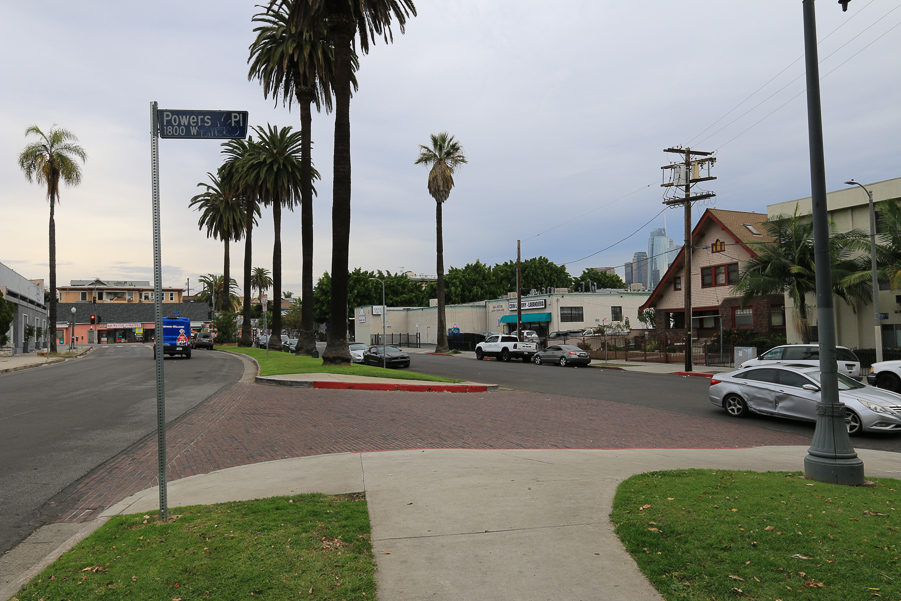 After our walking tour we headed into downtown Los Angeles for lunch. Located within the Grand Central Market is a new vendor called PBJ.LA and yes, it's all about new ways to enjoy peanut butter and jelly sandwiches.
Look at their menu, it's wild!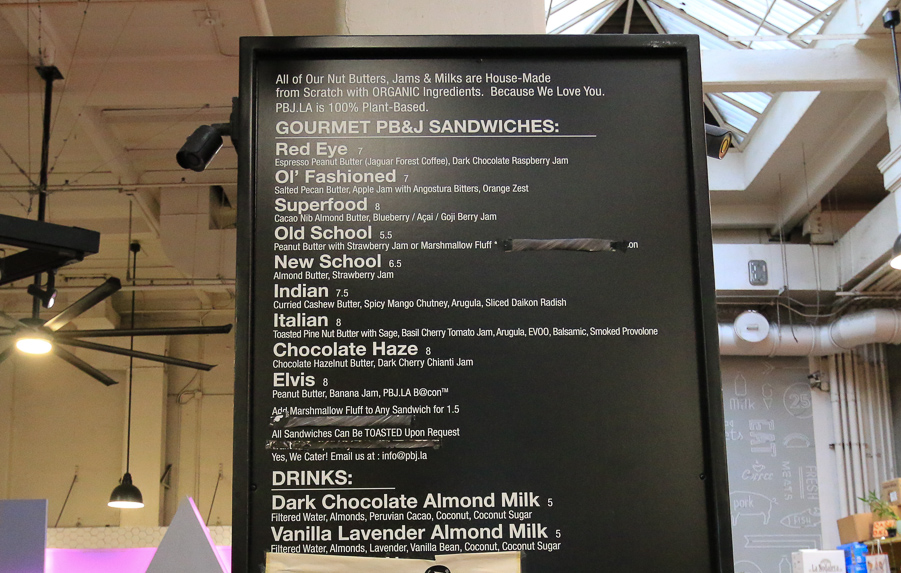 The sandwiches are made with round bread, the crust is cut off and the ends are then pressed together. After that, the sandwich is heated in an oven.
In order to get some good pictures, we had to partially eat each one. Judy chose the "Indian" but they were out, so we ordered the "Old School," with strawberry.
Our other choice was the "Red Eye," and it was very yummy.
They were deliciously different, but they are messy since the warm peanut butter and jelly tends to run. The food experience was great and it's hard to believe these old mansions are still standing after over 100 years. None have been lost to fire or gross neglect, unbelievable.